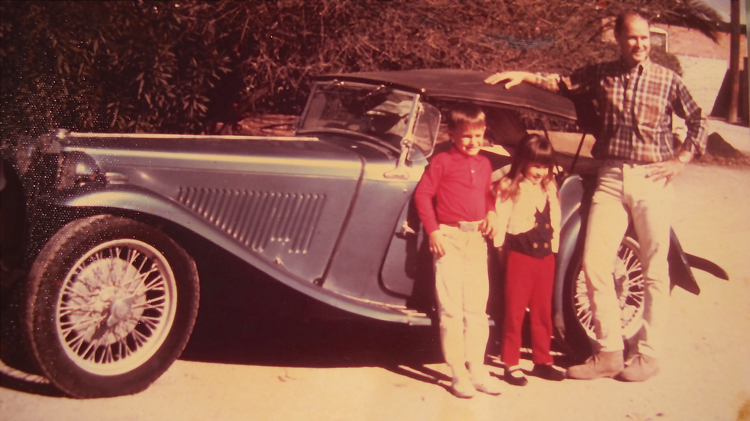 Any of us with a passion for automobiles has a story that most likely includes our parents. Their passions, skills, lessons, road trips, and experiences, can't help but rub off and ignite a bit of our excitement for motor oil and burnt rubber.
For me it was a 1949 MG TC.
When I was five years old my father bought an old MG TC. In my eyes it was a wonderous machine whose tall louvered grill, engine turned dash, Jaeger gauges, and soft leather seats might as well have been a magic carpet. That's me with my little sis Lisa and dad with his pride and joy.
Rides with dad in the MG were a treat beyond words.
Dad let my sister and me ride on the shelf behind him and mom, and on those lucky excursions when it was just him and me, the left seat was mine, like the driver, because it was a right hand drive car. If I close my eyes I can smell the smells, hear the engine clatter, and taste the warm summer air.
That set the hook that continues today with my passion for car.
Dad taught me right from wrong, strong morals and ethics, empathy and compassion for others, and to always work hard and wait to purchase the best you can instead of settling for second best. It always brings a smile remembering back to Dad behind the wheel of his MG, singing that song he made up about our dog Heidi, and enjoying the ride.
Thanks Dad!