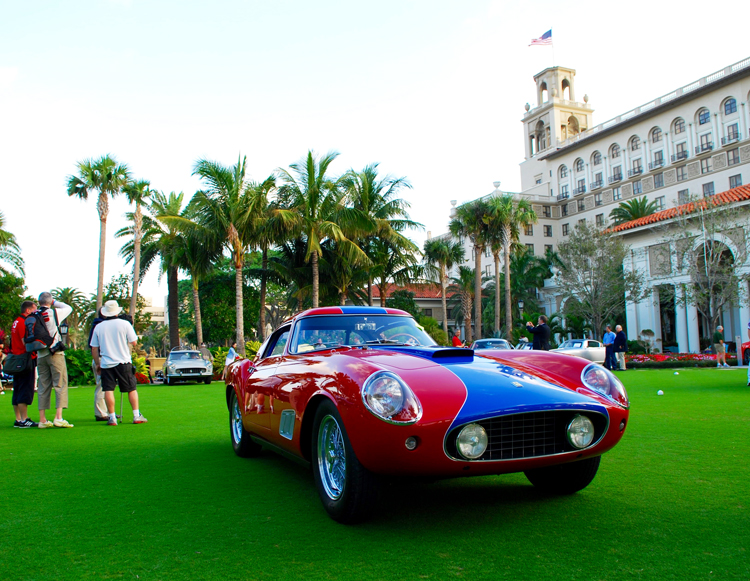 The first time I attended the Cavallino Classic I had three unforgettable Ferrari moments. A customer of mine at the time loaned me his Ferrari 360 for the week. That's right, a man I had never met gave me his Ferrari to drive for the week. Attending a jet party, a yacht hop, vintage racing, parties, rallies, and two concours events, one at The Breakers and the second at our new President's home, Mar-a-Lago, requires you arrive in style. His reason?
Because you can't drive a rental to the Cavallino Classic.
The second was meeting a friend of mine's childhood buddy who brought his 250 SWB to the event. I was at the racetrack enjoying several days of vintage Ferrari racing when I introduced myself to Beano. His shining 250 sat on the grass in all it's glory. "Would you give me a ride?" I asked. His reply. "No. I don't give rides." As he tossed me the keys.
"You can take her for a spin."
Upon returning to The Breakers for the evening festivities, I met another Mark in the parking lot, who was driving a silver 250 SWB. We chatted and when I told him about my dream drive in that red 250 SWB. He said "Why not drive two in one day?"
So I did.
The Cavallino Classic is an event you must attend at least once in your life. If you own a Ferrari, go every year. You won't be disappointed and who knows…
Someone just may toss you their keys.
You can learn more about the Cavallino Classic here: Cavallino