Podcast: Play in new window | Download


Listen To Harold by Clicking on the Red Arrow Above or Visit iTunes or Stitcher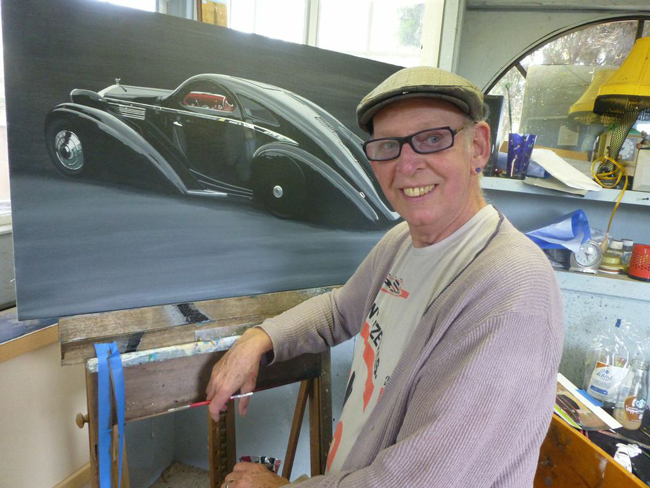 Harold Cleworth is known as the "Painter Laureate of the car". His lifetime of work grace homes, offices, and galleries, around the world. He's painted album covers for the Rolling Stones, The Who, and automotive pieces for manufacturers, celebrities, drivers, and enthusiasts who commission paintings of their automobiles. He's created upwards of 300 works on canvas over the years and thousands of posters and prints. Harold has just released his book An Artfulllife. It's his legacy and presents his lifetime of work that represents his style and masterful impressions of the automobile over time. I had the distinct pleasure of interviewing Howard on July 1, 2014 when he appeared on Cars Yeah as my 22 guest and it's wonderful to welcome him back to talk about his new book.
SHOW SPONSORS  
Free Fill 'R Up Book – Get your FREE book!
NOCO Genius Boost Jump Starter
SUCCESS QUOTE
"Inspiration is visual."
BOOK CHALLENGE
Finding the right publisher was a challenge but turned out to be a key to the book's success. Design Studio Press
AH-HA MOMENTS
Deciding to make the book not only about his art but also about him as a person and then reviewing the first dummy book and realizing just how much work he had completed.
FIRST SPECIAL CAR 
A Sunbeam Alpine
BEST BOOK ADVICE
By exploring many other art books Harold decided to do something different and the concept of a square book was born.
ARTISTIC INSPIRATIONS
Salvador Dali and Richard Estes among many others.
THE BOOK AN ARTFULLLIFE
AnArtfullife – Harold Cleworth
PARTING ADVICE 
Just do what you love and follow your dream. Work hard and play hard.
HOW TO FIND HAROLD
Harold Cleworth Artwork – www.haroldcleworthartwork.com
AnArtfulllife – Harold Cleworth
Cars Yeah Show #22 – www.carsyeah.com/ourportfolio/harold-cleworth
HELPING CARS YEAH GROW
You can help promote Cars Yeah interviews. Please go to iTunes and post a comment.
Every little bit helps and we will greatly appreciate your support.