Podcast: Play in new window | Download


Listen To Bill by Clicking on the Red Arrow Above or Visit iTunes or Stitcher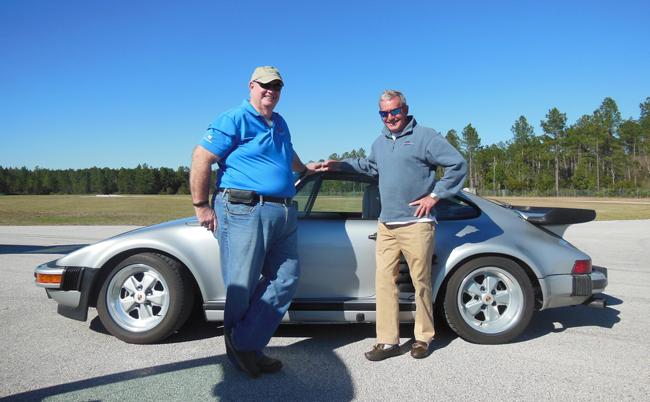 Bill Amos has built up a wonderful collection of cars throughout his career as a physician. It doesn't hurt living on Amelia Island, Florida where in March the area becomes the center of car universe. His philosophy on collecting cars is simple. Don't buy them as an investment. Buy cars to enjoy and drive them. Bill has some great advisors when it comes to buying cars: Ray Shaffer, Ramsey Potts, and friends Hurley Haywood (pictured with Bill above), Dan Davis, Magnus Walker, and the Ingram Family to name just a few. While he leans toward the Porsche marque you'll find a few Ferraris and a British car in his collection.
SHOW SPONSORS  
NOCO Genius Boost Jump Starter
SUCCESS QUOTE
"Anything worth doing is worth doing right and to the best of your ability." – Bill's father
"No matter how successful you are, don't forget you didn't get there by yourself." – Bill's father
CAREER CHALLENGE 
Struggling to get in to medical school. Listen to a wonderful story and lesson about what Bill did to get in to the school of his choice.
AH-HA MOMENTS
Seeing his first baby delivered during his junior year of medical school.
FIRST SPECIAL CAR 
A 1972 Datsun 240Z
BEST AUTOMOTIVE ADVICE
Buy cars that are fun and drive them.
GREAT AUTOMOTIVE RESOURCES  
Brumos Porsche – www.brumosporsche.com
Porsche Driving Experience – www.porschedriving.com
FAVORITE BOOKS
Porsche: Excellence Was Expected by Karl E. Ludvigsen
What Stays in Vegas  by Adam Tanner
PARTING ADVICE 
Don't buy a car to stick in a garage. Buy one you love and drive it.
HOW TO FIND BILL
Bill's Garage – www.amazon.com
Facebook – www.facebook.com/bill
HELPING CARS YEAH GROW
You can help promote Cars Yeah interviews. Please go to iTunes and post a comment.
Every little bit helps and we will greatly appreciate your support.