Podcast: Play in new window | Download


Listen To Peter by Clicking on the Red Arrow Above or Visit iTunes or Stitcher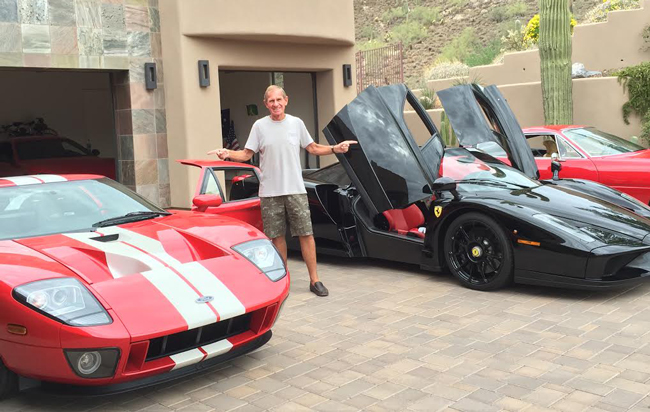 Peter Volny is the Founder of the Concours in the Hills that will celebrate it's third year on Saturday, February 13, 2016 in Fountain Hills Arizona. In 2015 the event drew 444 cars and 10,000 spectators and raised well over $60,000 for the Boys and Girls Clubs of Greater Scottsdale. Peter's career included growing one of Canada's most successful advertising agencies, Griffin Bacal Volny, who's clients include many major players in the automotive field. He's been an editorial advisor and regular columnist for several magazines and today along with running the Concours in the Hills event Peter plays with his collector cars and works on his tan, successfully, and his golf game, unsuccessfully!
SHOW SPONSORS  
NOCO Genius Boost Jump Starter
SUCCESS QUOTES
"Do what you love and you'll never work a day in your life."
"Just do it." – Nike
Developing colon cancer when in his teens. Then later in life he was defrauded for a large amount of money in business that almost wiped out the company.
AH-HA MOMENTS
While working as a seller of ad space to agencies representing automotive companies Peter realized he knew more about their clients products than they did and realize he could be doingw what they do.
FIRST SPECIAL CAR
A Holden that is a GM car made for the Australian market.
BEST AUTOMOTIVE ADVICE
Buy it because you like it not because you think it will appreciate.
GREAT RESOURCES  
Cars Yeah Website and Podcast – www.carsyeah.com
FAVORITE BOOK
Shantaram by Gregory David Roberts
PARTING ADVICE 
Life is about balance. The balance of work and pleasure, the balance of family and friends and don't forget the balance of your check book!
HOW TO FIND PETER
Concours in the Hills – www.concoursinthehills.org
HELPING CARS YEAH GROW
You can help promote Cars Yeah interviews. Please go to iTunes and post a comment.
Your opinion matters, and we will greatly appreciate your support.