Podcast: Play in new window | Download
Listen To Chris by Clicking on the Red Arrow Above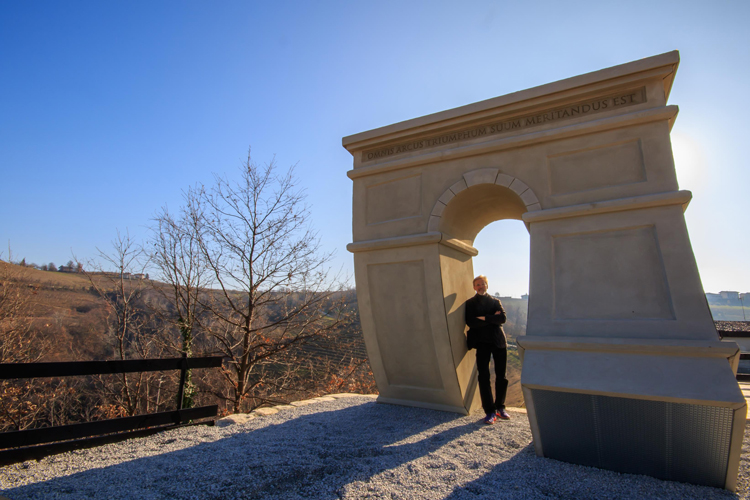 Chris Bangle is well known as an automotive designer who started his career at Opel in 1981. He is an Art Center College of Design graduate whose design career has spanned over 35 years. He moved from Opel to Fiat in 1985 and in 1992 he was named the first American Chief of Design at BMW. There he brought fresh looks to BMW, Mini Cooper, and Rolls Royce. Chris left BMW in 2009 and moved to Clavesana, near Turin Italy, where he founded Chris Bangle Associates, a design consultancy and management company he operates with his wife Catherine. Pictured above is Chris with his Big Walking Arch Number One or more affectionately knowns as Big Arky.
This is part one of a two part discussion with Chris Bangle. Listen to show number 560 for part two here on Cars Yeah.
SHOW SPONSORS  
Christopher Kimball Financial Services
SUCCESS QUOTE
"If you don't red light once and a while, you're not racing." – Don Garlits*
"Leaders take you where you don't want to go." – Gertrude Stein
CAREER & LIFE CHALLENGES 
Stepping out of the way of his many designers and allowing them to run their own show and then dealing with the many challenges that brings to a Design Director. Listen to this fascinating insider's view of automotive design.
AH-HA MOMENTS
Chris shares a story behind the BMW GINA project and the future of automotive manufacturing and then a second about tying architectural design with Kintsukuroi.
IF YOU WERE AN AUTOMOBILE 
The first years of the automobile because they are completely authentic and intuitively correct.
BEST AUTOMOTIVE ADVICE
Bend over and look between your legs if you want to understand a wheel arch design. 
USEFUL RESOURCES
Talk to people outside of your realm for opinions and ideas about what you are doing.
FAVORITE BOOKS 
The Nude by Sir Kenneth Clark (out of print)
PARTING WORDS OF ADVICE
We want people to understand that our design is being done for them, with them, because of them and it is them. If car design has that as its core philosophy we can express that in everything we do.
If you enjoyed this show, please rate it on iTunes and write a brief review. That would help tremendously in getting the word out and help others be inspired by Cars Yeah.
Your opinion matters, and I will greatly appreciate your support.