Podcast: Play in new window | Download
Listen To John by Clicking on the Red Arrow Above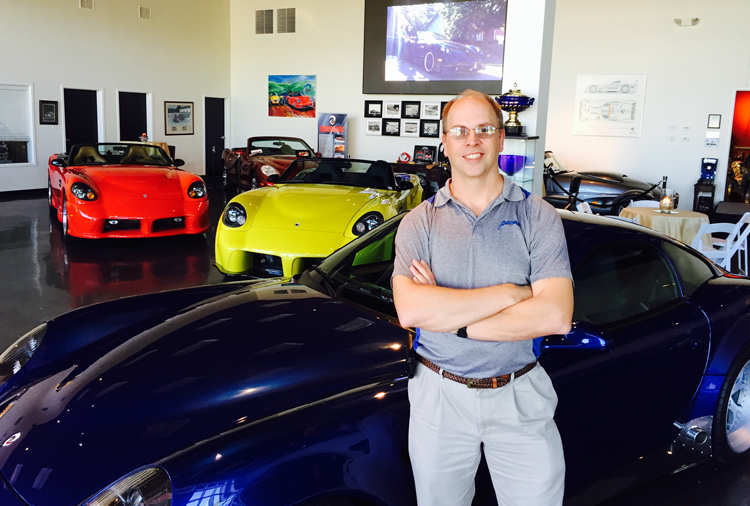 John Leverett is the Director of Product Planning and Engineering at Panoz road cars, the Panoz race cars and contract engineering projects. This includes the GT-RA, GT-WC, and GTS race cars. He supervises the team of fabricators and mechanics responsible for prototyping and production implementation of new and existing products. At Panoz they provide a wide range of design, engineering, manufacturing, and transportation technologies solutions committed to delivering fuel efficient, emissions-reducing technologies that benefit racing and everyday drivers and commuters. In 2013 John led design and development of the 25th Anniversary Edition Esperante Spyder and the Spyder GT. His current project is the fastback version of the Esperante called the Avezzano that debuted at Petit LeMans. Don Panoz, Chairman of the company is a past guest here on Cars Yeah. John's coming up on his 23rd year anniversary at Panoz.
SHOW SPONSORS  
Christopher Kimball Financial Services
SUCCESS QUOTE
"Do what you love, love what you do."
CAREER & LIFE CHALLENGES 
Balancing career and personal life given all the demands on John's time.
AH-HA MOMENTS
Coming to understand what you don't know and when to seek help.
FIRST SPECIAL VEHICLE
A 1971 Opel GT that he still owns today.
 BEST AUTOMOTIVE ADVICE
K.I.S.S. = Keep It Simple Stupid
USEFUL RESOURCES
BOOK RECOMMENDATION
Tune to Win by Carroll Smith
Engineer to Win by Carroll Smith
Nuts, Bolts, Fasteners, and Plumbing by Carroll Smith
PARTING WORDS OF ADVICE
You've gotta have a job or a hobby that you're passionate about and that you love doing.
If you enjoyed this show, please rate it on iTunes and write a brief review. That would help tremendously in getting the word out and help others be inspired by Cars Yeah.
Your opinion matters, and I will greatly appreciate your support.