Podcast: Play in new window | Download
Listen To Jim by Clicking on the Red Arrow Above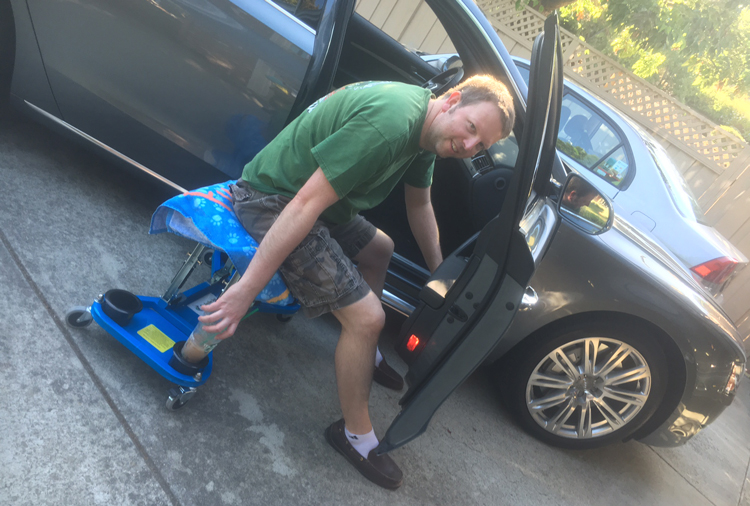 Jim Canova owns and operates Canova Bros. Auto Detailing located in Silicon Valley. He's been caring for his customer's vehicles since the early 90s. Several of his clients have shown their vehicles on the lawn at Pebble Beach. Jim's also an industrial designer who has created several unique detailing products. His latest venture and design is the Bumbee Seat, a Kickstarter Design Project that funded at 141% of its goal and was 100% fulfilled. The BumBee seat is a custom sit-on detailing creeper designed to make your time cleaning a vehicle more comfortable. Jim also sits on the board of two local educational departments.
SHOW SPONSORS  
Christopher Kimball Financial Services
SUCCESS QUOTES
"Strive for perfection in everything you do. Take the best that exists and make it better. When it does not exist, design it." – Sir Henry Royce
"Defeat is the greatest teacher you'll ever have." -Theodore Roosevelt
"The only man who never makes a mistake is the one who never does anything." – Theodore Roosevelt
CAREER & LIFE CHALLENGES 
Acquiring patents on products is very time consuming and expensive in addition to building prototypes.
AH-HA MOMENTS
Coming up with the idea for a detailing business and then realizing there was a need for better tools to be created when detailing a vehicle.
FIRST SPECIAL VEHICLE
A 1993 Viper RT10
 BEST AUTOMOTIVE ADVICE
KISS = Keep It Simple Stupid
Pursuing your passions is the fountain of youth.
If you enjoyed this show, please rate it on iTunes and write a brief review. That would help tremendously in getting the word out and help others be inspired by Cars Yeah.
Your opinion matters, and I will greatly appreciate your support.