Podcast: Play in new window | Download
Listen To Diego's podcast by Clicking on the Red Arrow Above
or use your mobile podcast App on iTunes, Google Play, or Stitcher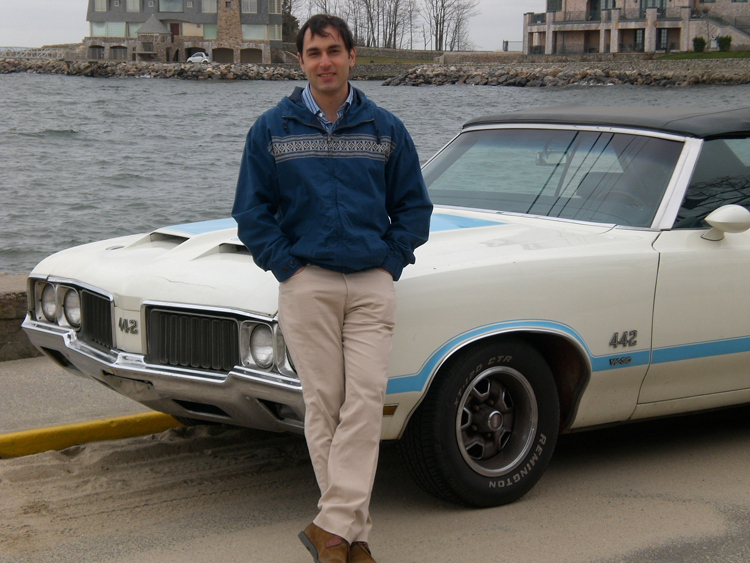 Diego Rosenberg has been an automotive enthusiast his entire life and it started with his father's 1967 Cougar. While he loves all cars he is particularly fond of muscle cars having lived close to Carlisle and the Cecil County and Englishtown racetracks. Diego is a first time author and he teamed up with publisher Car Tech Auto Books and Manuals and wrote Selling The American Muscle Car, a book about the marketing of Detroit iron in the 60s and 70s. Diego is the voice of the Pure Stock Muscle Car Drag Race in Michigan and a veteran of Hot Rod magazine.
SHOW SPONSORS
Christopher Kimball Financial Services
SUCCESS QUOTE
"You need great passion because everything you do with great passion you do well." – Juan Manuel Fangio
CAREER & LIFE CHALLENGES
Getting laid off during the recession.
AH-HA MOMENTS
Applying for an internship and landing a job from that experience through relationships.
FIRST SPECIAL CAR
A 1972 442 Oldsmobile Convertible
BEST AUTOMOTIVE ADVICE
Don't stop learning.
AUTOMOTIVE RESOURCES
Automotive Preservation Society
Email: Diego@SellingMuscle.net
Your opinion matters, and I will greatly appreciate your support.
If you enjoyed this show, please go to iTunes and leave me a five star review. That would help tremendously in getting the word out and help others be inspired by Cars Yeah.