Podcast: Play in new window | Download
Listen To Harley's podcast by Clicking on the Red Arrow Above
or use your mobile podcast App on iTunes, Google Play, or Stitcher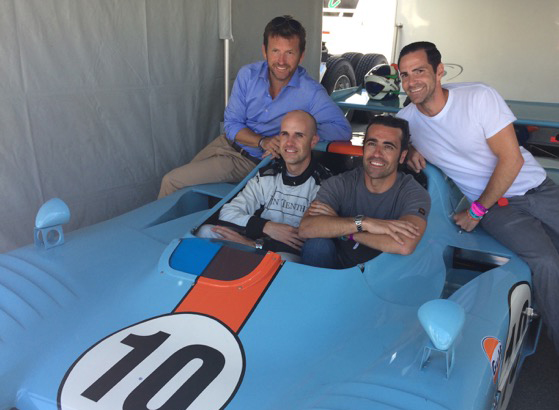 Harley Cluxton IV grew up in the collector car world. Those fluent in Ferrari history and endurance racing legends will recognize his father Harley E. Cluxton III. Harley has decades of experience dealing in historically significant cars, restoration management, collection planning, and consulting. In addition to his tenure with Grand Touring Cars, Inc., Harley launched Hammer Price, a revolutionary new mobile app that delivers collector car auction results in real time. Since releasing the first production version of Hammer Price, it's quickly become a definitive resource in the marketplace.
SHOW SPONSORS
Christopher Kimball Financial Services
SUCCESS QUOTE – Excerpt from the speech "Citizenship In A Republic" by Theadore Roosevelt
"It is not the critic who counts; not the man who points out how the strong man stumbles, or where the doer of deeds could have done them better. The credit belongs to the man who is actually in the arena, whose face is marred by dust and sweat and blood; who strives valiantly; who errs, who comes short again and again, because there is no effort without error and shortcoming; but who does actually strive to do the deeds; who knows great enthusiasms, the great devotions; who spends himself in a worthy cause; who at the best knows in the end the triumph of high achievement, and who at the worst, if he fails, at least fails while daring greatly, so that his place shall never be with those cold and timid souls who neither know victory nor defeat."
You can download the entire speech here.
CAREER & LIFE CHALLENGES
Co-developing the Hammer Price mobile app.
AH-HA MOMENTS
Realizing there was a need for Hammer Price.
FIRST SPECIAL CAR
A 1966 Shelby GT 350 Mustang
BEST AUTOMOTIVE ADVICE
Wear your seatbelt.
AUTOMOTIVE RESOURCES
BOOK RECOMMENDATIONS
Your opinion matters, and I will greatly appreciate your support.
If you enjoyed this show, please go to iTunes and leave me a five star review. That would help tremendously in getting the word out and help others be inspired by Cars Yeah.