Podcast: Play in new window | Download
Listen To Michael's podcast by Clicking on the button above,
or use your mobile podcast App on iTunes, Google Play, or Stitcher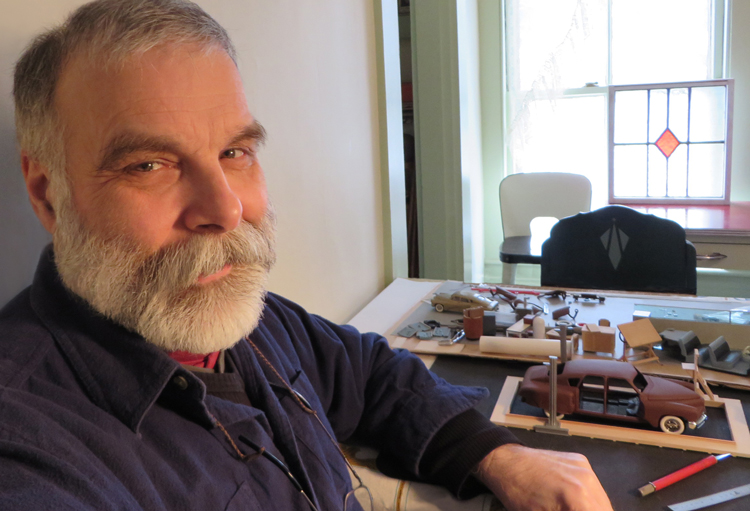 Michael Paul Smith is a photographer who plays with model cars. His long career includes the advertising field where he was an art director, a textbook illustrator, a newspaper editorial artist, a museum display designer, and a model maker. Since retiring Michael has created Elgin Park, a miniature town where he builds scenes using vintage model cars and buildings of which he then photographs to create realistic images that go back in time. His 1/24 scale recreations are of everyday America from the mid-20th century ranging from the 1920s to the mid-1960s. The details are incredible and no Photoshop is used to create his timeless images.
SHOW SPONSORS
Christopher Kimball Financial Services
SUCCESS QUOTE
"Learn everything you can, read everything you can." – Michael's father

"Well here we are." – Michael's father
"Stop complaining. Nobody wants to hear it." – Michael's mother
CAREER & LIFE CHALLENGES
Having a high school guidance counselor tell him he had no talent.
AH-HA MOMENTS
Being approached by the Museum of Art and Design in N.Y City to put an exhibit up about his work.
FIRST SPECIAL CAR
A 1973 VW Super Beetle
BEST AUTOMOTIVE ADVICE
"Don't touch your car!" – Michael's mechanic
AUTOMOTIVE RESOURCE
Dumpster diving for useful items for making his models and scenes.
BOOK RECOMMENDATION
Shikasta by Doris Lessing
West With The Night by Beryl Markham
Wicked by Gregory Maguire
PARTING WORDS OF ADVICE
Treat everyone you meet decently because you don't know their struggles.
WHERE TO FIND MICHAEL
Your opinion matters, and I will greatly appreciate your support.
If you enjoyed this show, please go to iTunes and leave me a five star review. That would help tremendously in getting the word out and help others be inspired by Cars Yeah.