Podcast: Play in new window | Download
Listen To Randy's podcast by Clicking on the button above,
or use your mobile podcast App on iTunes, Google Play, or Stitcher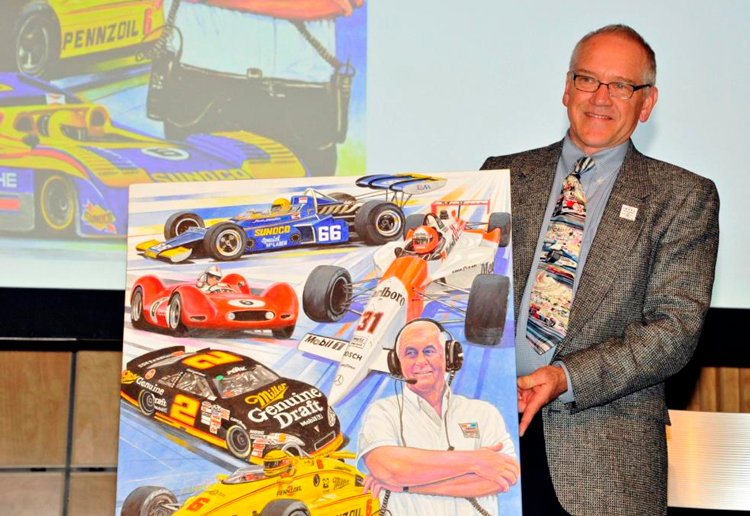 Randy Owens is a world renowned automotive artist whose vibrant colors, clean form, and crisp edges have excited enthusiasts and collectors for decades. After being introduced to auto racing in 1978 Randy began making serigraphs of motor racing subjects in his own unique style. He has produced over 300 handmade editions and has signed his name to more original pieces of art than any other automotive artist in history. He has staged over 200 exhibitions in five countries and his art hangs in museums and private collections around the globe. Randy has created event posters for Gran Prix races and events from Indianapolis to Bahrain. Photo credit Angelo Lisuzzo.
SHOW SPONSORS
While creating a poster for the second United States Grand Prix Randy ran in to some licensing issues with Ferrari and their prior agreements with sponsors.
AH HA MOMENT
When a driver signs your prints it really helps them sell better.
FIRST SPECIAL CAR
A 1967 Triumph Spitfire
BEST AUTOMOTIVE ADVICE
From a mechanic, "Take that wolf whistle off the intake manifold of your Triumph Spitfire!"
RESOURCES
BOOK RECOMMENDATIONS
Randy Owens a Ten Year Retrospective by Randy Owens – Out of print.
PARTING WORDS OF ADVICE
Find what you love to do and make yourself happy. We're all sharp on different edges.
Your opinion matters, and I will greatly appreciate your support.
If you enjoyed this show, please go to iTunes and leave me a five star review. That would help tremendously in getting the word out and help others be inspired by Cars Yeah.