Podcast: Play in new window | Download
Listen To Laura's podcast by Clicking on the button above,
or use your mobile podcast App on iTunes, Google Play, or Stitcher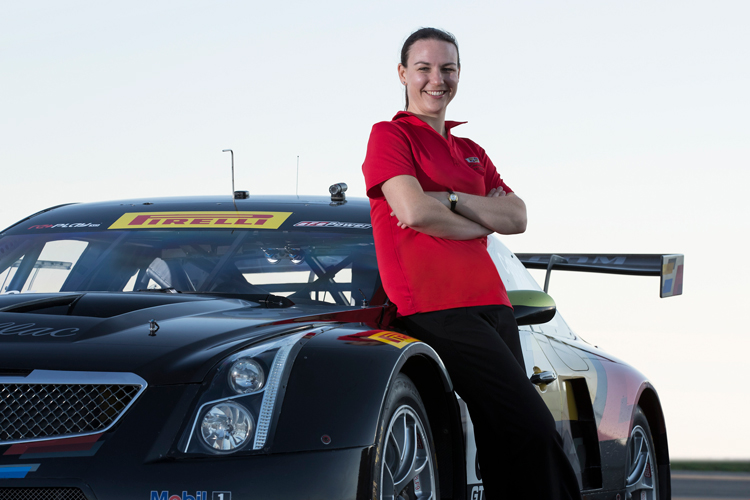 Laura Klauser is the Program Manager for the Cadillac ATS-VR race program that runs in the Pirelli World Challenge GT. Born and raised near Baltimore, Maryland, Laura received her Bachelors Degree in Mechanical Engineering from Rensselaer Polytechnic Institute and a Masters Degree in Engineering from the University of Michigan. Laura started working for General Motors as a co-op student and then full time in 2008. She's held various positions on different platforms including advanced design on the Corvette C7, releasing parts for the Cadillac CT6, and noise and vibration on the Chevrolet Cruze, Buick Encore, and Chevrolet Spark. Laura is active in SAE including Dynamic Events Coordinator for the Formula SAE Michigan Competition. She also participates in track day events driving her Cobalt SS turbo or her Corvette Grand Sport.
SHOW SPONSORS
Learning a life lesson after a minor automobile accident with her mother's car.
AH HA MOMENT
Discovering where in GM she really wanted to be and what she really enjoyed.
FIRST SPECIAL CAR
A Chevrolet Cobalt SS Turbo
BEST AUTOMOTIVE ADVICE
Drive your car. Don't let it sit.
RESOURCES
PARTING WORDS OF ADVICE
Find what you truly love to do for a living and do that.
Your opinion matters, and I will greatly appreciate your support.
If you enjoyed this show, please go to iTunes and leave me a five star review. That would help tremendously in getting the word out and help others be inspired by Cars Yeah.