Podcast: Play in new window | Download
Listen To Tim's podcast by Clicking on the button above,
or use your mobile podcast App on iTunes, Google Play, or Stitcher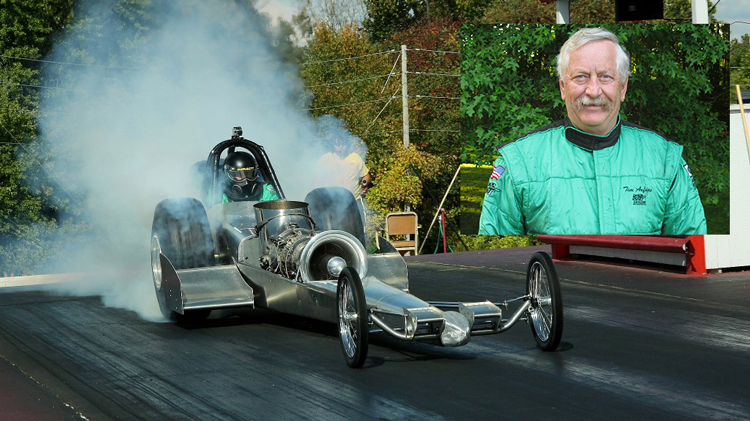 Tim Arfons is the Founder of Akron Turbine Group where they design and build track driers. Their units are unique in that they are easy to operate, self contained, and fit in the back of a pickup truck. Tim grew up in an automotive family and his father Art is a legendary three-time land speed record holder. Tim started racing in a front engine dragster powered by a General Electric T-58 turbine engine. He and his father then built the unique U.S.S. Enterprise tractor to compete in tractor pulling contests and went on to win numerous events. He went on to participate in the United States Hot Rod Association Monster Truck events and then built the Green Monster funny car. Later came a series of exhibition vehicles including the Kamikaze quad runner, The Jet Jumper, Jet Barstool, and American Thunder Jet Jeep. Tim's raced, been a stuntman, jumped over all sorts of things as an exhibition performer, he's a guy who has done it all.
SHOW SPONSORS
Creating and driving the Jet Jumper for exhibitions and discovering he hated driving the vehicle but was committed to driving and jumping the vehicle anyway.
AH HA MOMENT
After sourcing some turbine engines for a gentleman, Tim realized he could make a great living doing that versus driving in motorsports.
FIRST SPECIAL CAR
A jet powered quad runner Tim called "Kamikaze"
BEST AUTOMOTIVE ADVICE
When repairing an International Harvester 304 bus engine, if the valve is broke, a piece will be on the left hand side of that engine so find it before buttoning your repairs up.
RESOURCES
The Internet
BOOK RECOMMENDATION
Man Against the Salt by Harvey Shapiro
Speed Duel by Sam Hawley
The Lively Set – A Movie
PARTING WORDS OF ADVICE
Don't go in to the surplus engine business these days.
Your opinion matters, and I will greatly appreciate your support.
If you enjoyed this show, please go to iTunes and leave me a five star review. That would help tremendously in getting the word out and help others be inspired by Cars Yeah.