Podcast: Play in new window | Download
Listen To Richard's podcast by Clicking on the button above, or use your mobile podcast App on Apple Podcast, Google Play, or Stitcher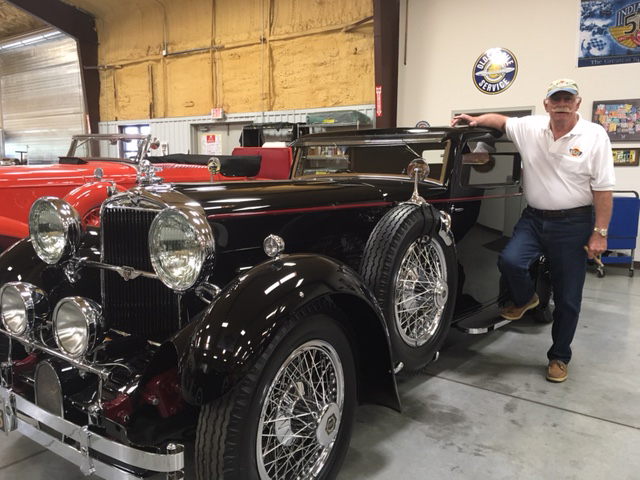 Richard Mitchell is the owner of Old Iron Works where they specialize in the restoration of vehicles from vintage and classics to the 1970s. Richard is known as The Stutz Guy and he is an avid collector of Stutz automobiles having one of the largest collections in the world of these iconic vehicles. He and his team do body work, mechanical repairs, upholstery, and detailing and their facility in Montgomery Texas is open the public for tours. Richard is a supporter and sponsor of concours events throughout the United States and he is a major supporter of the Keels and Wheels Concours d'Elegance. Since 1996 Keels & Wheels has become the largest classic automobile and vintage wooden boat show in the United States. You'll enjoy an average of 200 classic cars and 100 of the most beautiful wooden boats from around the country and no doubt you'll see a Stutz or two as well. The director, Bob Fuller is a past guest here at Cars Yeah.
SHOW SPONSORS
Living through 7 oil business booms and 8 oil business busts and learning to save your cash for those down times.
AH HA MOMENT
Quickly realizing a new mechanism in his business that others failed to understand.
FIRST SPECIAL VEHICLE
A 1962 Jaguar XKE
BEST AUTOMOTIVE ADVICE
Oil is cheap so change it often.
RESOURCE
BOOK RECOMMENDATION
The Splendid Stutz by Charles and Dale K. Wells et al Betts
PARTING WORDS OF ADVICE
Enjoy every day because it may be your last.
Your opinion matters, and I will greatly appreciate your support.
If you enjoyed this show, please go to Apple Podcast and leave me a five star review. That would help tremendously in getting the word out and help others be inspired by Cars Yeah.