Podcast: Play in new window | Download
Listen To Ruby's podcast by Clicking on the button above, or use your mobile podcast App on Apple Podcast, Google Play, or Stitcher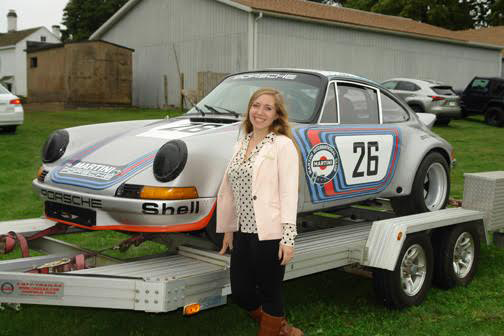 Ruby Scalera is the Editor of News and Social Media at Car Show Safari dot com. There she works along side her father Tomm and their talented team with a mission to be the single source for information about every car event – everywhere. Ruby has been attending car shows since before she could walk and she fell in love with cars at a tender young age, specifically of the 1957 Corvette variety. She has written for a number of automotive publications, she is an author, and loves having a career that blends her passion for writing with her love for automobiles. One of Ruby's goals is to make the automotive industry more appealing and accessible for women.
SHOW SPONSORS
Getting an interview with Jim Glickenhaus when she was starting out as a journalist after college. – Jim's been a guest here on Cars Yeah and you can find his show here: Jim
AH HA MOMENTS
The day to day of building their Cars Show Safari business and being in the automotive industry.
FIRST SPECIAL VEHICLE
A Volvo wagon
BEST AUTOMOTIVE ADVICE
"Women have a long history in the car industry… go get 'em!" – A letter from Janet Guthrie
RESOURCES
Books by Tom Cotter* – Tom's been a two time guest on Cars Yeah Bill & Tom Tom Cotter
BOOK RECOMMENDATION
Car Crazy by G. Wayne Miller
PARTING WORDS OF ADVICE
When it comes to business and cars, remember why you do it. You do it because you love it.
Your opinion matters, and I will greatly appreciate your support.
If you enjoyed this show, please go to Apple Podcast and leave me a five star review. That would help tremendously in getting the word out and help others be inspired by Cars Yeah.