Podcast: Play in new window | Download
Listen To Richard's podcast by Clicking on the button above, or use your mobile podcast App on Apple Podcast, Google Play, or Stitcher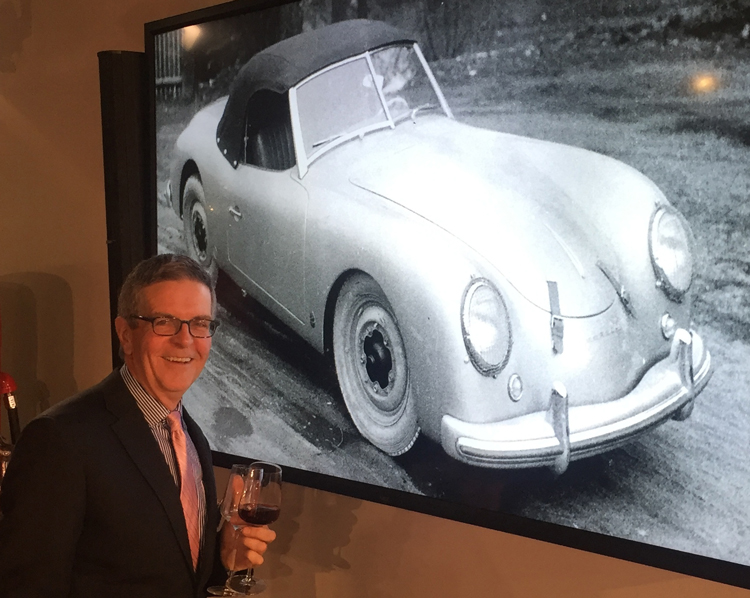 Richard Webb is an automotive artist whose passion for design, the romance of classic cars, and race cars is reflected in his paintings and drawings. He's owned over 374 classic cars in his life and while he's tried retiring a few time, Richard quickly discovered painting to be his encore career. His art begins as a design process with meticulous attention to composition, the backdrop, landscapes, architectural icons, and detail in his automotive subject matter. Mostly working with acrylic paint he mixes sand, modeling paste, epoxy, and sometimes deep set wood panels to create his images. In addition to painting on canvas he's been knows to use nontraditional surfaces including surfboards, doors, and barn wood. While most of his work is easily recognizable Richard has painted abstracts, portraits, and landscapes as well. Richard has been commissioned by art collectors, auto aficionados, and major global brands. His work can be found in the homes and businesses of art collectors worldwide.
SHOW SPONSORS
Learning that all the material things we add to our lives is not that important and that the real importance is how we use our time.
FIRST SPECIAL VEHICLE
A 1960 Morgan Plus 4
AUTOMOTIVE ADVICE
If you get no as an answer that no means next opportunity.
RESOURCES
BOOK RECOMMENDATION
The Road by Cormac McCarthy
PARTING WORDS OF ADVICE
Don't get attached to the world as it is because the world is always changing.
WHERE TO FIND RICHARD
Your opinion matters, and I will greatly appreciate your support.
If you enjoyed this show, please go to Apple Podcast and leave me a five star review. That would help tremendously in getting the word out and help others be inspired by Cars Yeah.