Podcast: Play in new window | Download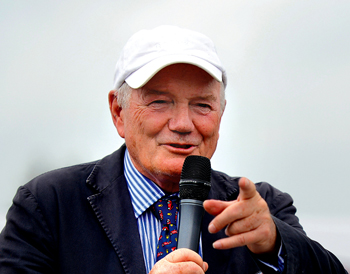 Murray Smith is the Festival Chairman at the Lime Rock Park Historic Festival that takes place at the historic Lime Rock Park race track in Lakeville, Connecticut during Labor Day weekend. Now in its 35th year, it's five days of events including a concours, parade, a gathering of the marques, an auction, and vintage racing. This year famed British driver Richard Attwood is the Honored guest for the Historic Festival. Murray was born in Scotland and ran a successful career in advertising helping clients from around the world. His enthusiasm with cars has been life long. He is a member of the BRDC and the RRDC and has raced and rallied in both modern and historic cars around the world. He's owned numerous historic automobiles including: Porsche RSK, RS60, F2, 917, Maserati 250F Birdcage and 300S and today he drives Morgans, Porsches, and a pre 1930 Austin Seven.
SHOW SPONSORS
Covercraft • MetronGarage • Christopher Kimball Financial Services
INSPIRATIONAL QUOTE
"Get your teeth in and never give up."
CAREER & LIFE CHALLENGES
Running the Louis Vuitton Concours d'Elegance
VEHICLE FOUND ON THE TRIP TOM BOUGHT
An Austin 7 Ulster
AUTOMOTIVE ADVICE
Buy what you love and not what you think other people will love.
RESOURCES
BOOK RECOMMENDATION
Tony Brooks Poetry In Motion by Tony Brooks
PARTING WORDS OF ADVICE
It's okay to look left and right w
WHERE TO FIND MURRAY
Your opinion matters, and I will greatly appreciate your support.
If you enjoyed this show, please go to Apple Podcast and leave me a five star review. That would help tremendously in getting the word out and help others be inspired by Cars Yeah.