Podcast: Play in new window | Download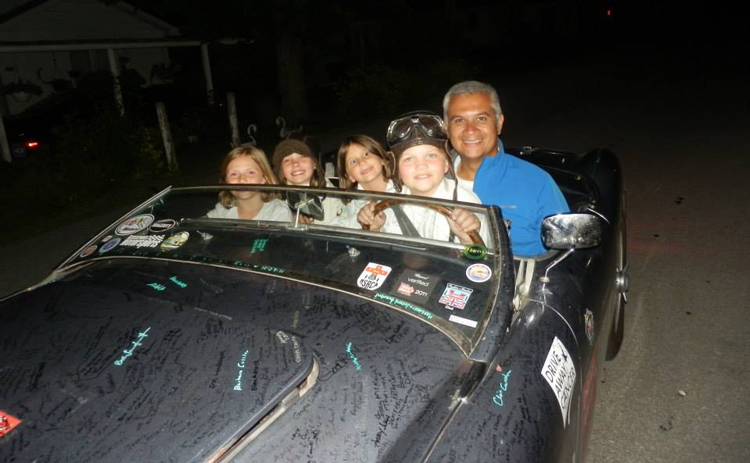 What initially started out as an attempt to cheer up a sick friend ended up inspiring thousands around the world when John Nikas and a 1953 Austin-Healey 100 – known as Grace – covered more than 300,000 miles visiting children and adults afflicted with cancer. Beset by daily mechanical difficulties and traveling through heat, hail, rain and snow, Grace became a rolling metaphor for people struggling with the terrible disease.
Rusting badly by the hour, sagging on tired springs, and covering almost a 1000-miles per day, Grace and John spread their message of hope and resilience across the country, refusing to give in to the daily obstacles that appeared in their path. As John once explained, "sometimes we don't have the luxury of going forward when things are great; sometimes we have to sally forth when things are falling apart – physically, emotionally or financially. The key is to press on regardless – even when the night is dark, the wind is cold, and the oil pressure is falling into the single digits."
The journey received worldwide press coverage, including national and local television features and profiles in the Extra, New York Times and USA Today. Today, Grace appears at museums across the country, while other Drive Away Cancer cars have assumed the mantle of visiting children to bring some light – and oil leaks – into their lives.
SHOW SPONSORS
Covercraft • MetronGarage • Christopher Kimball Financial Services
INSPIRATIONAL QUOTES
"Press on regardless."
"Be ashamed until you have won some victory for humanity." – Horace Mann
THE DRIVE'S CHALLENGES
Overcoming constant automotive breakdowns, weather, and fatigue during his 300,000 mile drive in an open British sports car.
FIRST SPECIAL VEHICLE
Grace, the Austin Healey John made his 300,000 mile journey in.
AUTOMOTIVE ADVICE
Find a way to help make people who are effected by an illness better, if only for a brief moment of time.
RESOURCES
BOOK RECOMMENDATION
British Sports Car Companion – John Nikas
Rule Brittania – When British Sports Cars Saved a Nation – John Nikas and Michael Furman*
PARTING WORDS OF ADVICE
Sometimes you just have to do what you can.
WHERE TO FIND JOHN
SHARE THE INSPIRATION
Your opinion matters, and I will greatly appreciate your support.
If you enjoyed this show, please go to Apple Podcast and leave me a five star review. That would help tremendously in getting the word out and help others be inspired by Cars Yeah.