Podcast: Play in new window | Download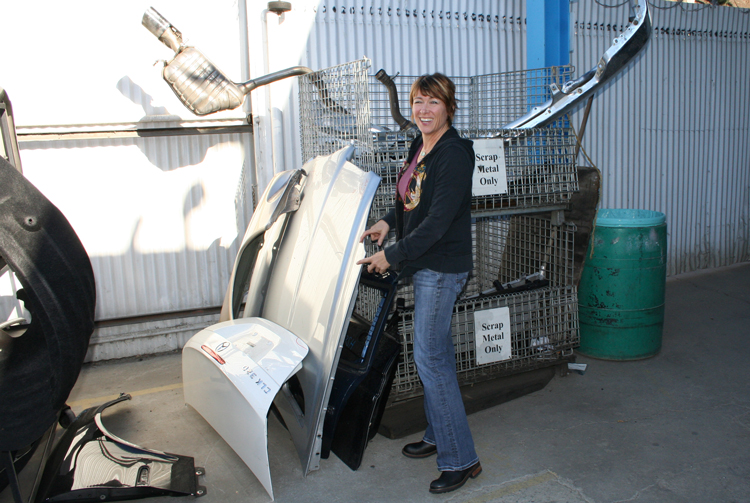 Christi Schimpke is a jewelry artist who founded Crash where she uses the cast off sheet metal of crashed exotic cars to form her beautiful jewelry. She has a master's degree in Renaissance Art and worked for years at the Getty Museum in Los Angeles. A metalsmithing class set her on a course to start her own jewelry business that she called Minabea, named after her grandmother. Christi's husband Dan owns the Beverly Coachcraft collision repair shop where they repair new cars with an emphasis on high-end luxury marques. Seeing the damaged parts of Porsche's, Maserati's, Bentley's and others Christi got an idea and Crash was born from the mangled parts of once beautifully crafted parts in to pieces of jewelry that is reimagined and made new again.
SHOW SPONSORS
Covercraft • MetronGarage • Christopher Kimball Financial Services
INSPIRATIONAL QUOTES
"Never give up."
BUSINESS CHALLENGES
Starting a business later in life and having to learn all the different parts of running that business.
FIRST SPECIAL VEHICLES
1995 E320 Mercedes Cabriolet
AUTOMOTIVE ADVICE
Learning how to polish and protect automotive paint.
RESOURCES
All the great people Christi has met in the automotive world.
BOOK RECOMMENDATION
A Man Called Ove – Fredrick Backman
PARTING WORDS OF ADVICE
Follow your passion and don't allow others to tell you how to live your life or run your business. Be true to yourself and keep going forward.
WHERE TO FIND CHRISTI
SHARE THE INSPIRATION
Your opinion matters, and I will greatly appreciate your support.
If you enjoyed this show, please go to Apple Podcast and leave me a five star review. That would help tremendously in getting the word out and help others be inspired by Cars Yeah.