Podcast: Play in new window | Download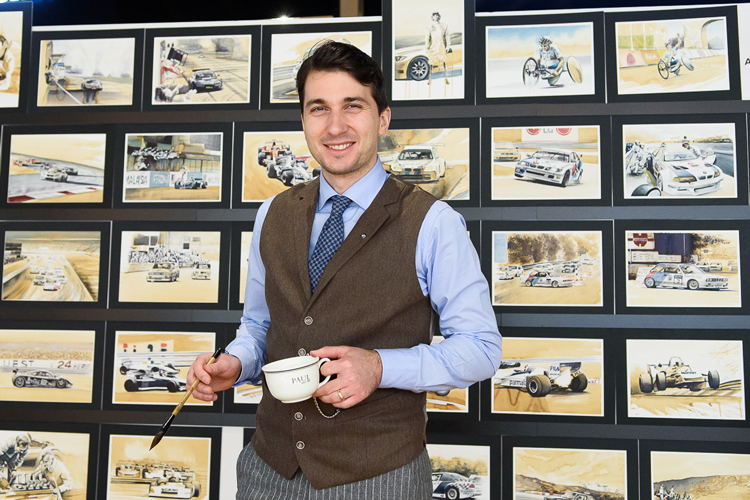 Adrian Mitu was Cars Yeah guest number 94 back in October of 2014. He is an artist living in Bucharest, Romania who sketches and paints beautiful works of automotive art in watercolors. What started as a morning ritual, enjoying a coffee while sketching and painting, Adrian had the inspiration to use that coffee as his medium so he dipped his artist's brush in his espresso he discovered a new technique. Since then he's created thousands of paintings and traveled to many countries sharing and exhibiting his art. His business is titled Aquarelief and you can enjoy seeing his art on his Facebook page. Plus Adrian has been married since we last spoke so congratulations to the bride and groom.
SHOW SPONSORS
Covercraft • MetronGarage • Christopher Kimball Financial Services
INSPIRATIONAL QUOTE
"Talent is cheap. Dedication is very expensive. It will cost your life… your whole life." – Michelangelo
BUSINESS ADVENTURE
Being invited to create a painting for every entrant at the Sinaia Concours d'Elegance in Romania at the Peles Castle. Ten painting 100 paintings in one month at a BMW display in a local mall.
FIRST SPECIAL VEHICLE ADRIAN WOULD LIKE
A Mini Cooper Clubman
AUTOMOTIVE ADVICE
"Keep your passion and do what you love." – Sir Stirling Moss
RESOURCES
BOOK RECOMMENDATION
Corvette Sting Ray – Pete Brock*
PARTING WORDS OF ADVICE
You can find possibilities everywhere if you simply change your viewpoint a little bit.
WHERE TO FIND ADRIAN
SHARE THE INSPIRATION
Your opinion matters, and I will greatly appreciate your support.
If you enjoyed this show, please go to Apple Podcast and leave me a five star review. That would help tremendously in getting the word out and help others be inspired by Cars Yeah.