Podcast: Play in new window | Download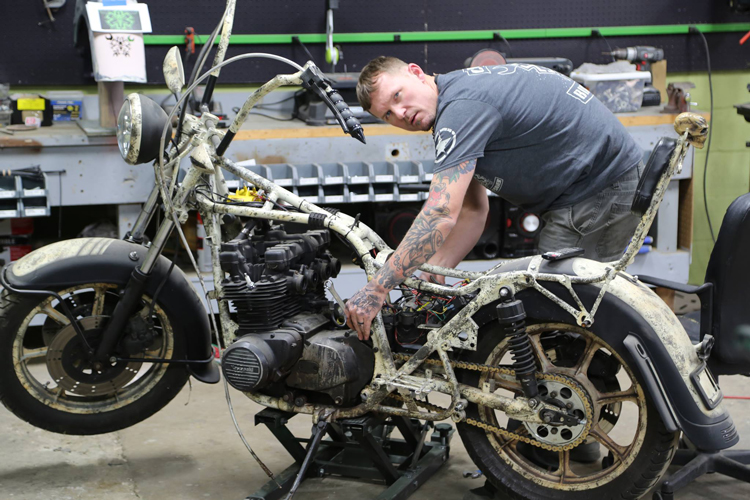 Jason Zaideman is the Founder and President of Operation Combat Bikesaver. He is a United States Army Veteran and Combat Engineer who served Prior to 9/11. Jason started his program in a shed in his back yard as a way to help veterans and first responders. The first bike project in that shed was a green KZ750. At Operation Combat Bikesaver they build bikes with heroes, for heroes, breathing life back in to tarnished motorcycles while honing the skills and minds of Veterans and First Responders from the deafening grasp of PTSD, PBI, and Depression. Participants fabricate, paint, weld, build, and resurrect bikes that were once damaged and forgotten in to something new and truly unique. Jason's father was a US Marine in Vietnam and he was the famed Rat Fink artist Randy Zaideman. His father taught Jason and his siblings how to express themselves creatively at a very early age and now Jason is passing those talents forward.
SHOW SPONSORS
Covercraft • MetronGarage • Christopher Kimball Financial Services
INSPIRATIONAL QUOTES
"Less talk more action."
"Don't be afraid to make a mistake."
BUSINESS AND LIFE CHALLENGE
Growing up in poverty and having to learn ways to occupy his life with very little money.
FIRST SPECIAL VEHICLE
A 1967 El Camino
AUTOMOTIVE ADVICE
Righty tighty lefty loosey.
RESOURCES
BOOK RECOMMENDATIONS
Zen and the Art of Motorcycle Mantenence by Robert M. Pirsig
PARTING WORDS OF ADVICE
See a need fill a need.
WHERE TO FIND JASON
SHARE THE INSPIRATION
Your opinion matters, and I will greatly appreciate your support.
If you enjoyed this show, please go to Apple Podcast and leave me a five star review. That would help tremendously in getting the word out and help others be inspired by Cars Yeah.