Podcast: Play in new window | Download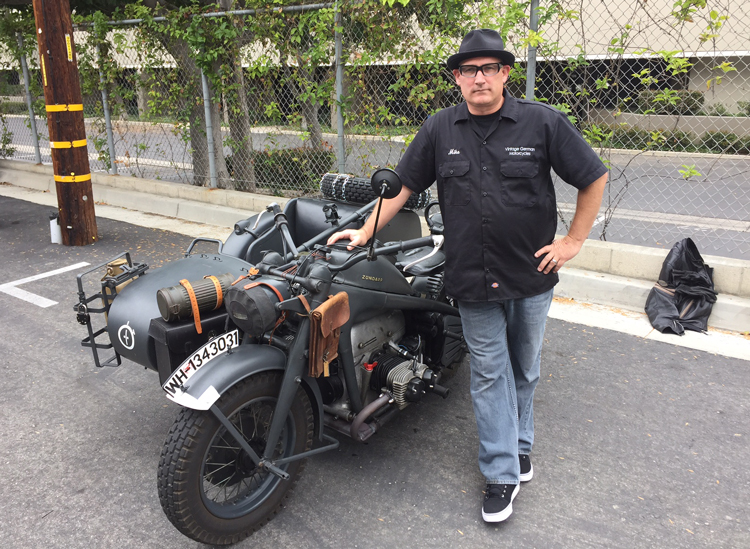 Mike Dunn owns Vintage German Motorcycles in Riverside, California, a business he started over ten years ago. He is one of the most respected restorers of WWII German motorcycles in the United States including BMWs, DKWs, and Zündapps. As owner/operator of the premier Zündapp Import, Sales and Service operation he is responsible a good amount of Zündapps now in existence in America. His motorcycle restorations are best of show winners and have appeared in movies and on television including Valkyrie and the History Channel. Mike travels to Europe to attend the annual Zündapp Tour and he has ridden over 8,000 km on vintage German bikes throughout Europe.
SHOW SPONSORS
Covercraft • MetronGarage • Christopher Kimball Financial Services
INSPIRATIONAL QUOTE
"If you work hard six days a week, you'll be successful in life."
CAREER & LIFE CHALLENGES
Breaking in to the tight niche world of vintage German motorcycles.
FIRST SPECIAL VEHICLE
1944 DKW NC 350-1 motorcycle
AUTOMOTIVE ADVICE
"If it came from the factory like this, you can put it back like that and it will work fine. And if you use all the original parts, it will work just fine." – Mike Eichner, German motorcycle expert
RESOURCES
Vintage German Motorcycles Links Page
BOOK RECOMMENDATION
Hot Motors Cold Feet by Helmut Günther
PARTING WORDS OF ADVICE
If you want something in life work hard, stay persistent, don't give up, anything is possible if you just work hard.
WHERE TO FIND MIKE
SHARE THE INSPIRATION
Your opinion matters, and I will greatly appreciate your support.
If you enjoyed this show, please go to Apple Podcast and leave me a five star review. That would help tremendously in getting the word out and help others be inspired by Cars Yeah.