Podcast: Play in new window | Download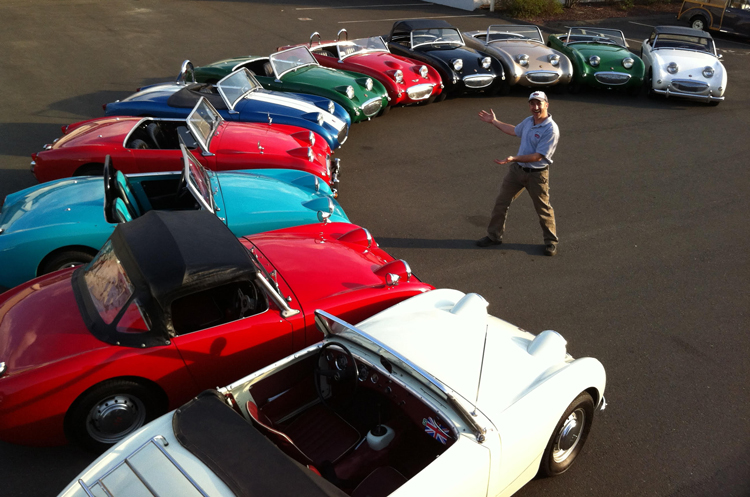 David Silberkleit is Branford, Connecticut is known as the CFO, Chief Frogeye Officer at Bugeye Guy, the Bugeye Sprite Specialists. While in high school he bought his first Bugeye Sprite, way back in 1978. Fast-forward to 2007 when David founded the website bugeyeguy.com. Today, that's where he buys, sells, builds, and restores these wonderful little British cars. In 2015 he built one of the world's only gold metal concours Bugeye Sprite and that car was certified at the Gettysburgh Austin Healy Club Enclave. Along with cars David has a parts business as well, where he helps other Bugeye owners keep their special cars running and looking their best.
SHOW SPONSORS
Covercraft • MetronGarage • Christopher Kimball Financial Services
INSPIRATIONAL QUOTE
"Everything that flows through out building has our name on it whether we built it or not."
CAREER & LIFE CHALLENGES
While growing his website crashed causing all sorts of challenges.
FIRST SPECIAL VEHICLE
A 1963 Mini Cooper S
AUTOMOTIVE ADVICE
The cheapest car is always the most expensive one.
RESOURCES
Visiting modern car manufacturing factories.
BOOK RECOMMENDATION
How To Modify Your Mini by David Vizard
PARTING WORDS OF ADVICE
Identify your passion, become the best in that niche, and put it out to the world and you'll be successful.
WHERE TO FIND DAVID
SHARE THE INSPIRATION
Your opinion matters, and I will greatly appreciate your support.
If you enjoyed this show, please go to Apple Podcast and leave me a five star review. That would help tremendously in getting the word out and help others be inspired by Cars Yeah.