Podcast: Play in new window | Download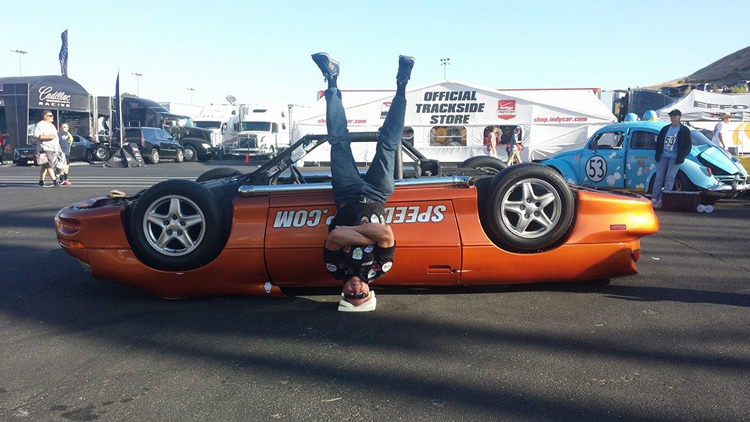 Jeff Bloch, better known as Speedycop, has been a police officer for nearly 22 years. He's also a fun-loving car enthusiast and an adrenaline junky with a very creative and competitive spirit. Put those things together, and you get his own unique brand of automotive mayhem! As a police sergeant in DC, he rides a horse downtown, at the White House, and on the National Mall. As the captain of Speedycop & The Gang of Outlaws, he designs and builds the most unusual race cars in the 24 Hours of Lemons series. With more than two dozen Lemons builds already, he and his team keep raising the bar for creativity!
SHOW SPONSORS
Covercraft • MetronGarage • Christopher Kimball Financial Services
INSPIRATIONAL QUOTE
"Winners never quit and quitters never win." – Vince Lombardi
CAREER & LIFE CHALLENGES
Dealing with their SpeedyCopter, a helicopter turned race car. It's quite a story!
FIRST SPECIAL VEHICLE
A 5.0 Mustang Convertible with the "rapping alarm" system
AUTOMOTIVE ADVICE
You probably can't win it in one corner but you can lose it all in one corner so don't overdrive your ability when it comes to endurance racing.
RESOURCES
Rob Ida and the Tucker Torpedo
BOOK RECOMMENDATION
How On Fire Are We by Mike Meier
PARTING WORDS OF ADVICE
Never give up, never surrender.
WHERE TO FIND JEFF
SHARE THE INSPIRATION
Your opinion matters, and I will greatly appreciate your support.
If you enjoyed this show, please go to Apple Podcast and leave me a five star review. That would help tremendously in getting the word out and help others be inspired by Cars Yeah.