Podcast: Play in new window | Download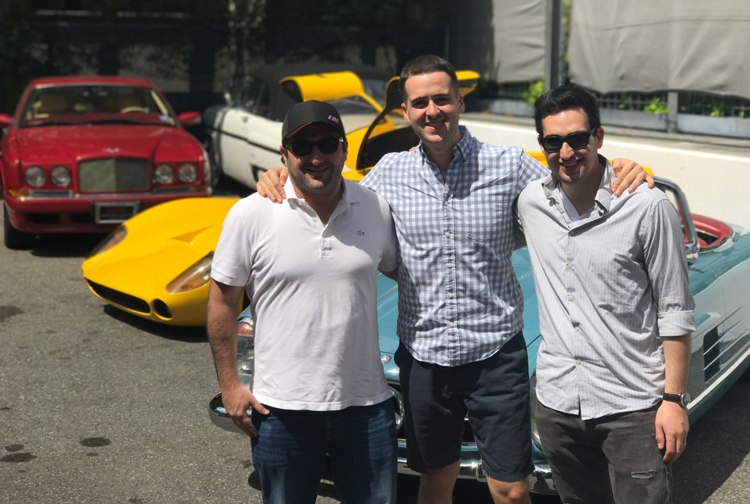 Steven Melnick, his brother Jordan Melnick, and Keith Zang are three guys from New York City who share a passion for cars that lead them to create Classic Car Chasers. While each one pursue different careers, Steven in Finance, Jordan in accounting, and Keith in advertising, it's their love of cars that was the catalyst for creating Classic Car Chasers. Their motto, "For The Love of Classics" comes from their shared passion so they created a website where they buy, sell, and promote classic cars by featuring special automobiles on their website that they find around the world. Their hobby is rapidly growing in to a following of enthusiasts where they connect people and classic cars.
SHOW SPONSORS
Covercraft • MetronGarage • Christopher Kimball Financial Services
INSPIRATIONAL QUOTE
"For the love of classics." – CCC
"The client is not always right." – Enzo Ferrari
"If God had meant for us to walk, why would he give us feet that fit car pedals." – Sir Stirling Moss
"Whatever Steve can do I can do better." – Keith Zang
CAREER & LIFE CHALLENGES
Balancing their full time jobs with their passion to build Classic Car Chasers.
FIRST SPECIAL VEHICLE
A 2004 Acura TSX – Steve
A 2007 Acura TL – Jordan
A 1997 Mustang Convertible – Keith
AUTOMOTIVE ADVICE
If you have the means to purchase that dream car, don't put it off. – Jordan
What is the shortest period of time in human history? The time between when the light turns green and the guy behind you starts honking. – Keith
Learn how to drive a stick – Steve
RESOURCES
BOOK RECOMMENDATION
The Everything Store by Brad Stone
The Devil's Mercedes by Robert Klara
PARTING WORDS OF ADVICE
Chase the dream. Find something to do that doesn't feel like work. It's more about the people you will meet along the way.
WHERE TO FIND STEVE, JORDAN, & KEITH
SHARE THE INSPIRATION
Your opinion matters, and I will greatly appreciate your support.
If you enjoyed this show, please go to Apple Podcast and leave me a five star review. That would help tremendously in getting the word out and help others be inspired by Cars Yeah.