Podcast: Play in new window | Download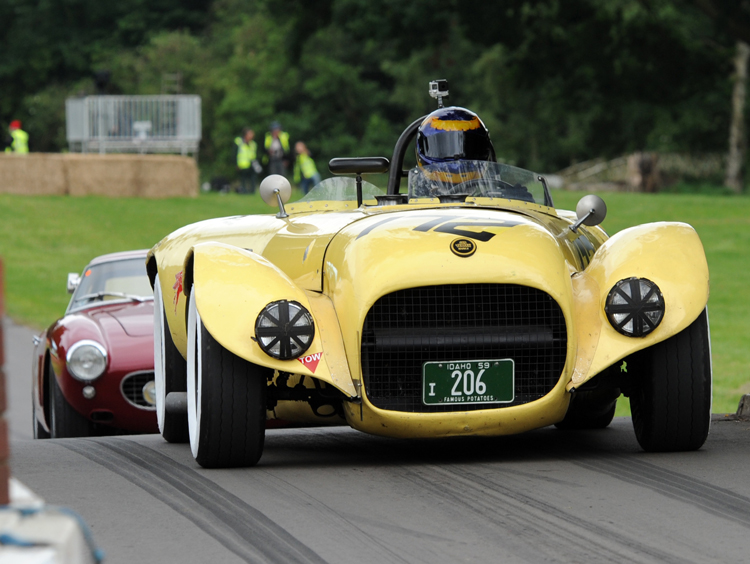 Dr. Ernie Nagamatsu is an avid vintage racer who has run on tracks around the world. He was a very good friend of Max Balchowsky, the builder of the legendary 1959 Old Yeller II Buick Special. Ernie has owned and raced that very same car for over 28 years. Old Yeller has been raced around the world by Ernie and with the exception of a three year rest, that car has raced continuously since it was built. He raced Formula Fords in the 1980s in SCCA and started historic racing a 1964 Shelby Cobra CS 2203 with a Le Mans Hardtop over 35 years ago including important International Historic racing events. He also races the legendary SCCA E Production "Kilpatrick" Porsche Speedster. Ernie's career as a dentist in Las Angeles spanned decades, he is a writer and he's written a cookbook, "Foods of the Kingdom of Bhutan" for which he received numerous awards.
Don't miss a wonderful eulogy for racer and World Champion Phil Hill that Ernie wrote and reads during our talk.
SHOW SPONSORS
Covercraft • MetronGarage • Christopher Kimball Financial Services
INSPIRATIONAL QUOTE
"Custodia Flama – Keeper of the flame."
CAREER & LIFE CHALLENGES
Being at Goodwood the weekend of September 11, 2001.
FIRST SPECIAL VEHICLE
A 1964 Pontiac Tempest Le Mans
AUTOMOTIVE ADVICE
"Keep it simple." – Max Balchowsky
RESOURCES
Books by Kazuo Ishiguro – See below
BOOK RECOMMENDATION
The Buried Giant by Kazuo Ishiguro
Colorless by Haruki Murakami
PARTING WORDS OF ADVICE
We are only stewards and guardians of physical things
WHERE TO FIND ERNIE
SHARE THE INSPIRATION
Your opinion matters, and I will greatly appreciate your support.
If you enjoyed this show, please go to Apple Podcast and leave me a five star review. That would help tremendously in getting the word out and help others be inspired by Cars Yeah.