Podcast: Play in new window | Download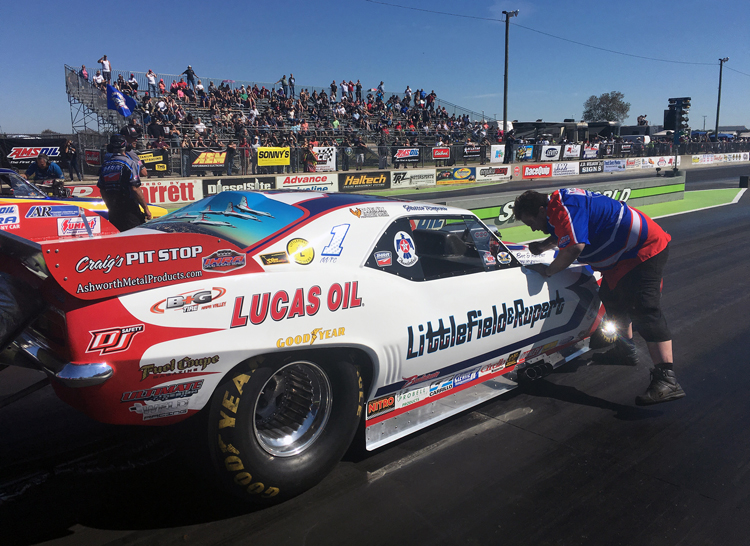 Brad Littlefield is the Public Relations Manager for Mazda Raceway Laguna Seca. His late father, Mert, was a supercharger manufacturer and drag racer who ran Nitro Funny Cars in the 70s and 80s winning titles in Top Alcohol Funny Cars in the 90s and 2000s. Brad earned his competition license in Alcohol Funny Cars posting a best time of 6.00 seconds and 243.96 mph in the quarter mile. Today he's the Car Chief and Clutch Mechanic on a Nostalgia Nitro Funny Car driven by Jason Rupert, a six time Championship winner. At 11 years of age Brad started his own newsletter at the NHRA drag races launching his passion for writing and promoting. He's worked at the National Hot Rod Association fro 11 years and his role at Mazda Raceway Laguna Seca involves coordinating the media efforts for their many racing events at that iconic track in California.
SHOW SPONSORS
Covercraft • MetronGarage • Christopher Kimball Financial Services
INSPIRATIONAL QUOTE
"You gotta risk it for the biscuit."
CAREER & LIFE CHALLENGES
Working on a drag racing team with very limited resources and finding ways to still go racing.
THIS SPECIAL VEHICLE
A Chevy S10 Truck
BEST AUTOMOTIVE ADVICE
Don't let other people set your limitations.
RESOURCES
RECOMMENDED BOOKS
Grand Prix Motorcycle Heroes by Norm DeWitt
PARTING WORDS OF ADVICE
Follow your passion.
WHERE TO FIND BRAD
SHARE THE INSPIRATION
Your opinion matters, and I will greatly appreciate your support.
If you enjoyed this show, please go to Apple Podcast and leave me a five star review. That would help tremendously in getting the word out and help others be inspired by Cars Yeah.