Podcast: Play in new window | Download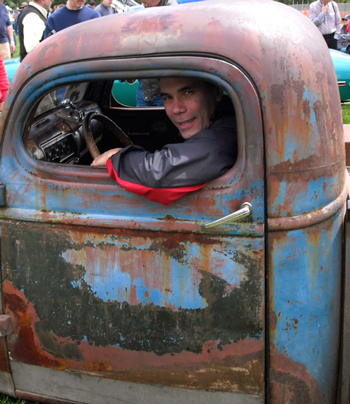 Jim Koscs is the President of Audamotive Communications near the Jersey shore, a company he founded in 1999. Jim's been writing about cars since 1986 when he started with Musclecars, Vette, High-Performnce Pontiac, and High-Performance Mopar magazines. He worked in PR for BMW and Mercedes-Benz North America. He covers a wide variety of PR and marketing materials for brands including BMW, Subaru, Mercedes-Benz, Porsche, Toyota, Lexus, Jaguar, Land Rover and many others. His automotive journalism has appeared The New York Times in their "Auto Ego" column and his work's been published by BBC Autos and he regularly contributes to Hagerty's website and e-news. Jim is a member of the International Motor Press Association.
SHOW SPONSORS
Covercraft • MetronGarage • Christopher Kimball Financial Services
INSPIRATIONAL QUOTE
"Never take any of your work for granted. Nobody is irreplaceable." – Christine Auda
CAREER & LIFE CHALLENGES
Dealing with job and client losses.
FIRST SPECIAL VEHICLE
A 1970 Mustang Mach I
BEST AUTOMOTIVE ADVICE
Buy a collector car that's already had the previous owner's heart, soul, and money poured in to it.
RESOURCES
RECOMMENDED BOOKS
Just Do It Now by Lynda Field
John Z Delorean and Me by Barrie Wills*
PARTING WORDS OF ADVICE
If you are going in to the automotive industry do your research first.
WHERE TO FIND JIM
SHARE THE INSPIRATION
Your opinion matters, and I will greatly appreciate your support.
If you enjoyed this show, please go to Apple Podcast and leave me a five star review. That would help tremendously in getting the word out and help others be inspired by Cars Yeah.