Podcast: Play in new window | Download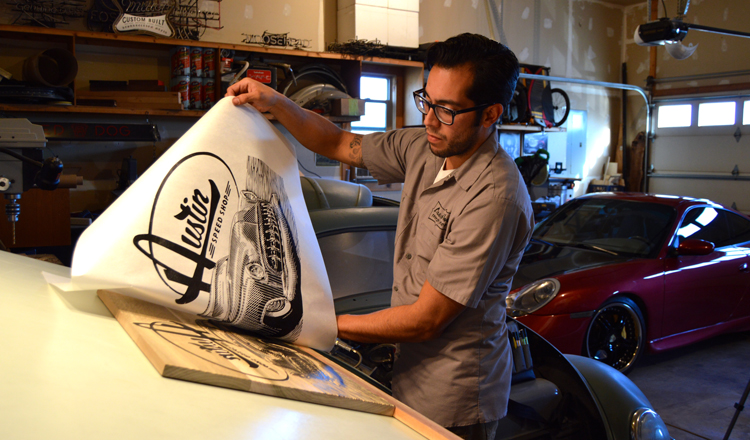 Alex Carmona is an automotive artist out of Greely, Colorado who is known as Old School Alex. His company, Oldschoolalex.com offers a wide range of services including commissioned art, logo design, leather work, wood crafting, printmaking, and public art. His focus however is traditional printmaking and fine art. While working in pen and ink and paint he also practices the process of 3-layer reduction woodcut creating beautiful prints that offer the viewer a classical graphic look with the feel of hand craftsmanship. While his work covers many areas of creativity it is the automobile that Alex loves to explore. He combines his passion for old school art and classic cars in a bold and exciting way. Alex's mantra is "Ordinary art can hold you prisoner. Think beyond it, and you'll be set free."
SHOW SPONSORS
Covercraft • MetronGarage • Christopher Kimball Financial Services
INSPIRATIONAL QUOTES
"The whole future lies in uncertainty. Live immediately. – Seneca
"If you're depressed, you're living in the past. If you're anxious, you're living in the future. But if you are at peace, you are living in the present." – Lao Tzu
CAREER & LIFE CHALLENGES
Leaving a ten year career with the Air Force to start his art business.
FIRST SPECIAL VEHICLE
A 2007 Harley Davidson Night Train
BEST AUTOMOTIVE ADVICE
Buying an old car is like having a bank account. Keep it clean, take care of it, and the value will keep going up.
RESOURCES
Tim Ferris Podcast
Jocko Willing Podcast
RECOMMENDED BOOKS
Meditations by Marcus Aurelius
PARTING WORDS OF ADVICE
If you have a passion, be tunnel visioned and make it happen.
WHERE TO FIND ALEX
SHARE THE INSPIRATION
Your opinion matters, and I will greatly appreciate your support.
If you enjoyed this show, please go to Apple Podcast and leave me a five star review. That would help tremendously in getting the word out and help others be inspired by Cars Yeah.