Podcast: Play in new window | Download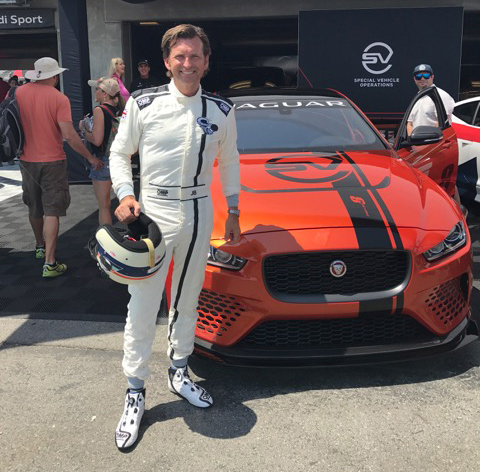 Justin Bell is a TV and Web Show Host with a lifetime of experience in the racing and automotive world. His career began in 1988 and since then his accomplishments include the 1997 FIA GT2 World Championship, winning the 24 Hours of Le Mans in 1998 and a second-place finish in Le Mans and Daytona, and a pair of SCCA Trans-Am wins. He's raced for major car manufacturers including: Saab, Peugeot, Porsche, BMW, Dodge, and General Motors. He's driven for Dodge Viper and General Motors in their Corvette Racing Team at Daytona 24 Hours and Le mans and Petit Le Mans. Today Justin spends a lot of time expanding his broadcasting and hosting career living in Los Angeles, writing new shows and hosting for a variety of clients. And of course, his father is the famed Derek Bell, the noted professional race car driver with a long career racing and winning numerous Championships.
Justin's father Derek Bell was guest #917 on Cars Yeah so please be sure to enjoy his show as well.
SHOW SPONSORS
Covercraft • MetronGarage • Christopher Kimball Financial Services
INSPIRATIONAL QUOTE
"Treat other people as you would like to be treated yourself and you'll get on fine." – Derek Bell
CAREER & LIFE CHALLENGES
While working to build his racing career Justin got involved in too many things that took him off course.
FIRST SPECIAL VEHICLE
A Golf GTI
BEST AUTOMOTIVE ADVICE
Don't fall off.
RESOURCES
RECOMMENDED BOOKS
Jonathan Livingston Seagull by Richard Bach
Dirt Don't Slow You Down by Magnus Walker
PARTING WORDS OF ADVICE
You can't lose next weeks race worrying about yesterdays.
WHERE TO FIND JUSTIN
SHARE THE INSPIRATION
Your opinion matters, and I will greatly appreciate your support.
If you enjoyed this show, please go to Apple Podcast and leave me a five star review. That would help tremendously in getting the word out and help others be inspired by Cars Yeah.