Podcast: Play in new window | Download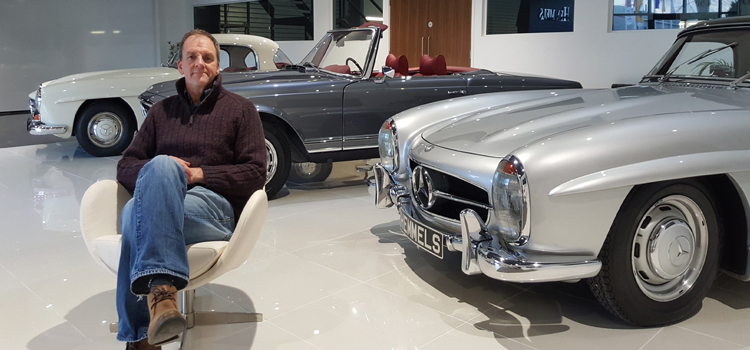 Iain Wood is the Commercial Director at Hemmels in the United Kindgdom. At Hemmels, Iain and their skilled craftsmen restore and maintain classic Mercedes-Benz automobiles, with an emphasis on the Pagoda models, using their tried and tested methods, what they call the Neugeboren process.Neugeboren translates to New Born. Whether you want your car rebuilt to your own specific requirements with modern characteristics, or perfectly original, just as it left the factory, Hemmels delivers. They do it all from metal work, engine building, paint, and interior restoration. Iain is originally from Canada and has worked in the UK for over 20 years for start-up companies in IT, Bio-Tech, and today his focus is on his passion for automobiles. He is drawn to businesses that are pioneering, globally focused, and in pursuit of excellence.
SHOW SPONSORS
Covercraft • MetronGarage • Christopher Kimball Financial Services
INSPIRATIONAL QUOTE
"If you can dream it you can do it." – Enzo Ferrari
CAREER & LIFE CHALLENGES
Being stuck in a town with a broken down car and not enough money and experiencing kindness from others that changed their lives.
FIRST SPECIAL VEHICLE
A 1977 Triumph Spitfire
BEST AUTOMOTIVE ADVICE
Italian for looks. French for manners. Japanese for reliability. American for chrome. German for all of the above.
RESOURCES
RECOMMENDED BOOK
Fermat's Last Theorem by Amir Azcel
Fermat's Enigma by Simon Singh
PARTING WORDS OF ADVICE
At times you'll be up, at times you'll be down, don't take either of them too seriously. Just enjoy the ride.
WHERE TO FIND IAIN
SHARE THE INSPIRATION
Your opinion matters, and I will greatly appreciate your support.
If you enjoyed this show, please go to Apple Podcast and leave me a five star review. That would help tremendously in getting the word out and help others be inspired by Cars Yeah.