Podcast: Play in new window | Download
Listen To Mark's podcast by Clicking on the button above, or use your mobile podcast App on Apple Podcast, Google Play, Spotify, or Stitcher.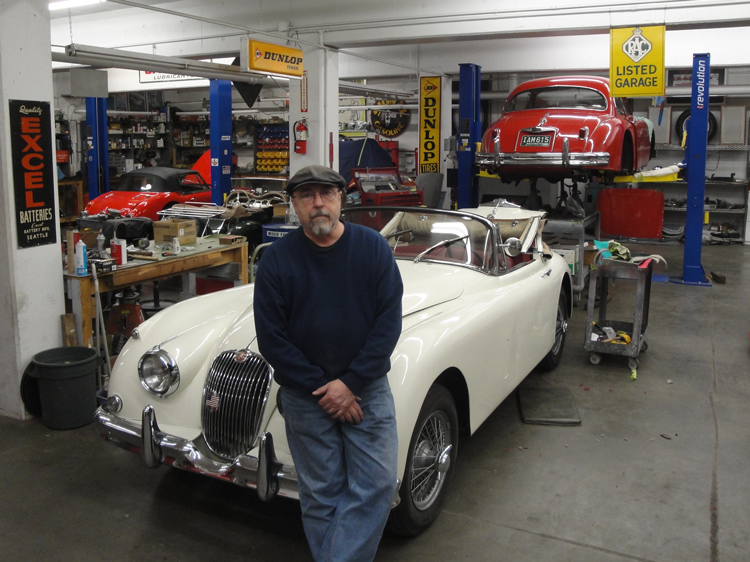 Mark Jones is the Proprietor at Britsport of Seattle in Seattle, Washington. Since 1992 he and his talented craftsmen restore and repair classic British cars of all marques. They are a full-service restoration business performing award-winning work utilizing experience from over 30 years of painting, restoring, repairing a wide spectrum of vintage cars. They rebuild British gearboxes and Laycock overdrive units as well and perform pre-purchase inspections, in addition to buying and selling fine classic automobiles. Mark worked in the train industry in his prior profession from the time he was in high school working the graveyard shift and attending school in the daytime. He was a dispatcher, telegrapher, yard clerk and more until his passion for cars turned in to a full-time business at Britsport of Seattle.
SHOW SPONSORS  
Covercraft   •   MetronGarage   •   Christopher Kimball Financial Services
INSPIRATIONAL QUOTE
To be successful in business, find your niche. When you find your niche, drive a train through it.
CAREER & LIFE CHALLENGES 
Working as a trained dispatcher at a young age – could cause fatalities if done incorrectly, so he had to achieve excellence to save lives.
FIRST SPECIAL VEHICLE 
1961 Corvette Roadster
BEST AUTOMOTIVE ADVICE 
You can't make chicken soup out of chicken feathers.
RESOURCES 
Do your due diligence and vet anyone working on your vehicles.
RECOMMENDED BOOKS 
Jaguar XK 120 – Anatomy of a Cult Object by Urs Schmid
PARTING WORDS OF ADVICE
Find something in life to be passionate about.
WHERE TO FIND MARK
SHARE THE INSPIRATION
Your opinion matters, and I will greatly appreciate your support.
If you enjoyed this show, please go to Apple Podcast and leave me a five-star review. That would help tremendously in getting the word out and help others be inspired by Cars Yeah.