Podcast: Play in new window | Download
Listen to Lyn's podcast by Clicking on the button above, or use your mobile podcast App on Apple Podcast, Google Play, Spotify, or Stitcher.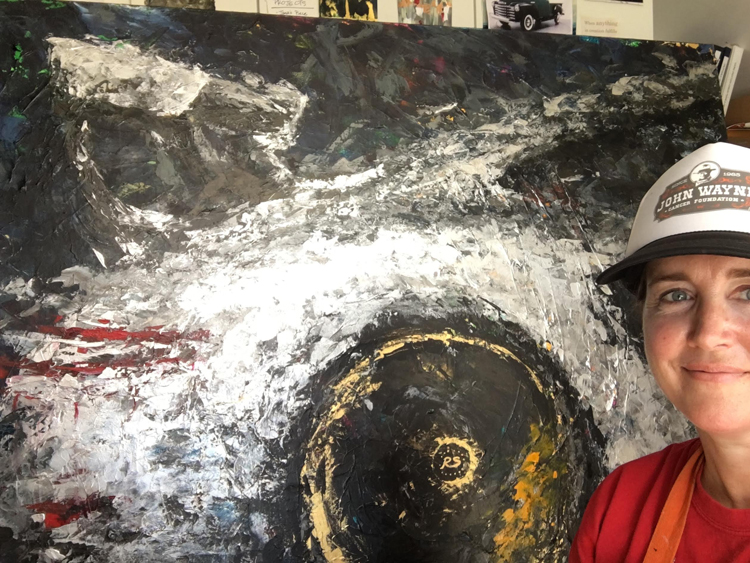 Lyn Hiner is an automotive artist who describes her paintings as abstract expressionist in acrylic on canvas and paper. She lives in San Clemente, California with her family working from her studio that overlooks a park and the Pacific Ocean. While she paints a variety of subject matter it is her automotive work that brings Lyn to Cars Yeah. Her expressive application and playful use of color and layers, sometimes using a knife to lay down the paint, results in conflict inviting the viewer to look deeper in to her pieces. Her automobiles draw you in to explore the shape, color, and emotion of the subject matter whether they be a Cobra, Porsche, Mustang or Lamborghini. Whatever you see in her art be assured that it is an emotional impression through Lyn's eyes.
SHOW SPONSORS  
Covercraft   •   MetronGarage   •   Christopher Kimball Financial Services
INSPIRATIONAL QUOTE
In my paintings, I want the feeling of the car to come through more than the exact replication of the car.
CAREER & LIFE CHALLENGES 
After an unexplained accident where white phosphorus exploded in her pocket and left her with burns requiring surgery, the story went viral and major news stations were calling for interviews. So, instead of being focuedon healing from her injuries, their lives became a circus of media attention.
FIRST SPECIAL VEHICLE 
2002 Porsche 911 Carerra
BEST AUTOMOTIVE ADVICE 
Never let your gas tank get below a quarter of a tank!
RESOURCES 
The Bible
RECOMMENDED BOOK 
Art, Money, Success – Maria Brophy
PARTING WORDS OF ADVICE
Always think about other people. Helping others will always put you ahead in the long run. If you invest time in other people, they will invest time in you.
WHERE TO FIND LYN
Your opinion matters, and I will greatly appreciate your support.
If you enjoyed this show, please go to Apple Podcast and leave me a five-star review. That would help tremendously in getting the word out and help others be inspired by Cars Yeah.