Podcast: Play in new window | Download
Listen to Reginald's podcast by Clicking on the button above, or use your mobile podcast App on Apple Podcast, Google Play, Spotify, or Stitcher.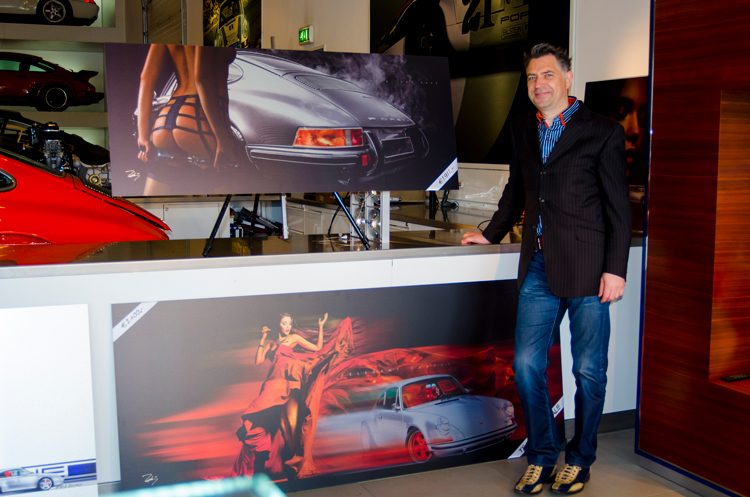 Reginald Kruger is an automotive artist with a passion for Porsche who works and lives in The Netherlands. He creates exclusive artwork with special airbrush and silkscreen techniques that he developed himself. His technique of painting with photographs combined with brushed aluminum produce amazing light effects. His use of metal results in very bright colors and a 3D special effect. Reginald also works on glass and textile and he produces extremely large art pieces for automotive showrooms and for special presentations. He will create custom art using your special vehicle as well for a completely customized work of automotive art.
SHOW SPONSORS  
Covercraft   •   MetronGarage   •   Christopher Kimball Financial Services
INSPIRATIONAL QUOTE
Quality, quality, quality! Deliver the highest possible quality!
CAREER & LIFE CHALLENGES 
Before I started doing my art full time, I had a business and it ended up failing and I had to file for bankruptcy. Up until that point in my life, everything I did had been a success. That was the first time in my life that I knew what it was like to truly fail. I took that low point as a time to reset my life and pursue my art. It took an entire year before I sold a piece of art. Then everything changed for me at one Porsche show. Take risks, even if the odds are against you. Pursue your dreams, even if other's tell you it can't happen. Never, ever give up on your dreams.
FIRST SPECIAL VEHICLE 
Porsche 991R
BEST AUTOMOTIVE ADVICE 
Buy the Porsche that you like to drive. Don't buy a Porsche because it's a good investment.
RESOURCES
RECOMMENDED BOOK 
A Flat 6 Love Affair by Bart Kuykens
PARTING WORDS OF ADVICE
Stay focused and true to yourself.
WHERE TO FIND REGINALD
Your opinion matters, and I will greatly appreciate your support.
If you enjoyed this show, please go to Apple Podcast and leave me a five-star review. That would help tremendously in getting the word out and help others be inspired by Cars Yeah.