Podcast: Play in new window | Download
Listen to Chris' podcast by Clicking on the button above, or use your mobile podcast App on Apple Podcast, Google Play, Spotify, or Stitcher.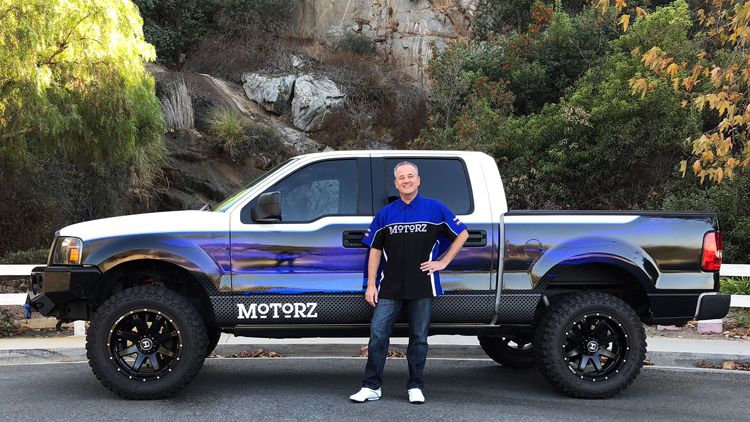 Chris Duke is the creator, executive producer and host of Motorz TV, a half hour syndicated television series available to over 200 million television households in the US and Canada, plus online at YouTube, iTunes, Roku, and more. He also reviews cars for Duke's Drive and talks tech in Duke's Tech. This year will mark the 100th episode and 10th year of his Automotive Improvement® show. Congratulations! Chris is a true automotive enthusiast with more than 31 years of experience in hands-on vehicle customization and an 18 year veteran of the automotive industry. Previously he served as a magazine editor, as well as the host and co-writer for Auto Center, a web series produced for Mobil 1.
SHOW SPONSORS
Covercraft • MetronGarage • Christopher Kimball Financial Services
INSPIRATIONAL QUOTE
Don't hesitate when you want to do something – find a way to do it. Follow your passion and your interests and "just do it".
CAREER & LIFE CHALLENGES
I grew up in tech and programming and built businesses and successfully sold them. I had a taste of success and walked away with some money. I was able to pay cash for my dream car – a new Ford F150 and plunged headfirst into my passion. The challenge was to leave my high paying tech job for my passion. If you love what you do, and you work hard and long at it, your dreams do come true!
FIRST SPECIAL VEHICLE
1982 Honda Civic Hatchback
BEST AUTOMOTIVE ADVICE
Never take anything in life for granted, including your success. Constantly challenge yourself and try to be a better you.
WHERE TO FIND CHRIS
Your opinion matters, and I will greatly appreciate your support.
If you enjoyed this show, please go to Apple Podcast and leave me a five-star review. That would help tremendously in getting the word out and help others be inspired by Cars Yeah.