Podcast: Play in new window | Download
Listen to Cheryl's podcast by Clicking on the button above, or use your mobile podcast App on Apple Podcast, Google Play, Spotify, or Stitcher.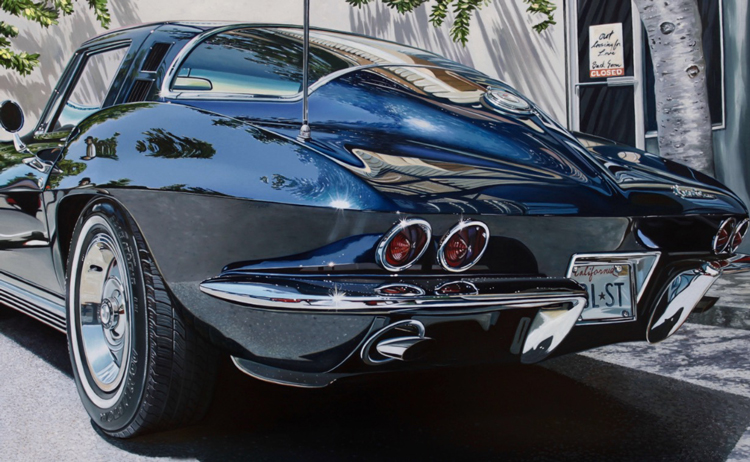 Cheryl Kelley is an artist who was classically trained in oil paint and has taken her passion and love of cars, muscle cars, and put her own stamp on the subject matter. She started painting at the age of ten and grew up in the formative 60s. She often paints on aluminum that plays well to the reflections on the surfaces of automobiles allowing the viewer to go deeper and to see something more in the form. The quality and mystery of these reflections take the viewer out of the mundane and in to a dream world. The nostalgia of the American dream along with cars makes her art unique and Cheryl adds her own feminine stamp on the subject matter taking the beauty of the object and going beyond the surface.
SHOW SPONSORS
Covercraft • MetronGarage • Christopher Kimball Financial Services
INSPIRATIONAL QUOTE
Somewhere in your make-up there lies sleeping, the seed of achievement which, if aroused and put into action, would carry you to heights, such as you may never have hoped to attain. – Napoleon Hill
CAREER & LIFE CHALLENGES
I had some serious health issues, and had a sensitivity to environmental pollution. I had to really push myself to get anything done during that time. After 10 years of struggle, I am feeling better today than ever. Gluten was a problem for me.
FIRST SPECIAL VEHICLE
1970 Datsun 1600 Roadster Convertible
BEST AUTOMOTIVE ADVICE
All wheel drive
RESOURCES
RECOMMENDED BOOK
The 5 Second Rule by Mel Robbins
PARTING WORDS OF ADVICE
Your opinion matters, and I will greatly appreciate your support.
If you enjoyed this show, please go to Apple Podcast and leave me a five-star review. That would help tremendously in getting the word out and help others be inspired by Cars Yeah.