Podcast: Play in new window | Download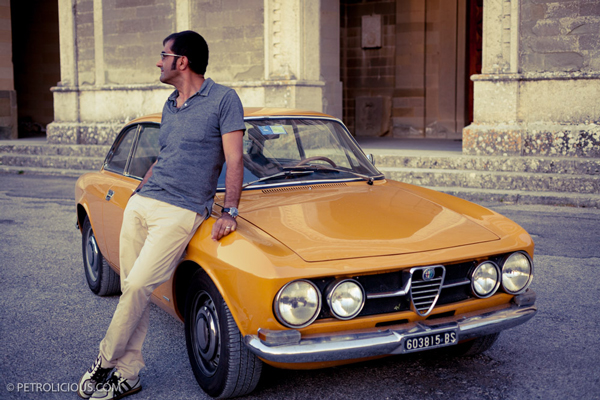 Afshin Behnia is the founder of Petrolicious where he and his talented team create beautiful and original videos and articles for classic car enthusiasts. They celebrate the inventions, the personalities, and the aesthetics that ignite our collective lust for great machines.  Petrolicious is a group of fans and fanatics, collectors and racers. One of their many wonderful videos featured Frank Mandarano with his Maserati 3500 GT who was a guest here on Cars Yeah. At Petrolicious you are invited to take a ride. Entertain your passion and drive tastefully.
  SPONSORS
Want to sponsor the Cars Yeah podcast? Contact us today.
"Everything in the universe is within you. Ask all from yourself. " – Jalāl ad-Dīn AUTOMOTIVE CHALLENGE

Listen to Afshin's dream of finding an Alfa GTV in Italy and taking on a tour in Europe. But the dream turned in to a nightmare when he discovered he had purchase a Frankenstein car. There is a good ending though…
AH-HA MOMENTS
By combining a variety of things Afshin enjoyed doing around his passion for cars lead to the start of Petrolicious.
FIRST SPECIAL AUTOMOBILE
1974 BMW 2002
BEST AUTOMOTIVE ADVICE 
It's better to buy someone's completed project instead of doing your own.
FAVORITE BOOKS
Car Guys vs Bean Counters – Bob Lutz
FAVORITE RESOURCES 
Manuel Leon Minassian – A friend of Afhin's who is very knowledgable about Alfa Romeo automobiles.
PARTING ADVICE
Work with people that you like.
HOW TO FIND AFSHIN
Petrolicious – www.petrolicious.com
Facebook – www.facebook.com/petrolicious
HELPING CARS YEAH GROW
You can help promote Cars Yeah interviews. Please go to iTunes and post a comment. Every little bit helps and we will greatly appreciate your support.