Podcast: Play in new window | Download


Listen To Alex by Clicking on the Red Arrow Above or Visit iTunes or Stitcher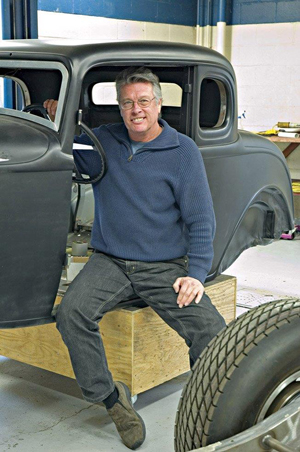 Alex Finigan is the Sales Manager at Paul Russell and Company where they restore and maintain the finest historic vehicles in the world. They perform a full range of care including: mechanical, coachbuilding, paint, upholstery, machining, research, parts, and much more. You'll find Paul Russell and Companies work on the lawns of the finest concours events in the world. Alex was bitten by the car bug in 1959 and has worked on and restored automobiles ever since.
SHOW SPONSORS  
NOCO Genius Boost Jump Starter
CarpeGear.com The Little Red Racing Car
SUCCESS QUOTE
"Do something you love and you'll never work a day in your life."
CAREER CHALLENGE
At 40 Alex was at a turning point, not wanting to be a mechanic the rest of his live, he and Paul Russell decided to start buying and selling cars and that's what Alex began to focus on.
AH-HA MOMENTS
After purchasing three older Porsches, fixing them up an selling two that paid for the third Alex realized he was on to an idea to expand their business and start a collection of dream cars.
FIRST SPECIAL CAR
A 1955 Chevy Two Door
BEST AUTOMOTIVE ADVICE
"Buy the best car you can afford." – Ralph Lauren
AUTOMOTIVE RESOURCES
Bring a Trailer – www.bringatrailer.com  
Jalopy Journal – www.jalopyjournal.com
FAVORITE BOOKS
The Immmortal 2.9 Alfa Romeo – Simon Moore
The Legendary 2.3 Alfa Romeo 8C2300 – Simon Moore
Excellence was Expected – Karl E. Ludvigsen
The Rodder's Journal – Magazine
PARTING ADVICE 
Old cars need to be driven. Life is short. Enjoy yourself.
HOW TO FIND ALEX
Paul Russell and Company – www.paulrussell.com
HELPING CARS YEAH GROW
You can help promote Cars Yeah interviews. Please go to iTunes and post a comment.
Every little bit helps and we will greatly appreciate your support.