Podcast: Play in new window | Download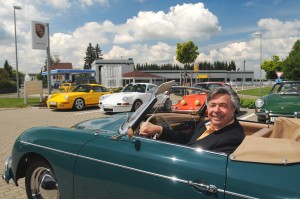 Alois Ruf is a legend in the world of unique, tuned Porsche automobiles. Founded in 1939 in Pfaffenhausen, Germany by his father Alois Ruf Sr, Ruf Automobile is officially recognized as a manufacturer by the German government. When Alois Jr. was only 24 years old he took control of the company and focused on his passion for Porsche. And in 1975 the first Ruf-enhanced Porsche came to life. In 1987 the record breaking Yellowbird exploded on to the automotive scene. Ruf Automobiles has been designing, engineering, and building its own unique automobiles for customers around the world. In addition to their breathtaking cars of today, including the CTR3, Rt12R, 3800 S, and Rt 35S , Ruf restores and maintains classic Porsche cars. There are no limits to the world of Ruf.
SHOW SPONSOR
NOCO Genius Boost Jump Start  – Here.
"Work with passion."
"Every failure is one step closer to success." – Inspired by Thomas Edison
"Be honest."
Alois was offered the chance to compete in the world's fastest car challenge by Road & Track magazine.  Listen to how this David and Goliath story set the Ruf name on the map.
AH-HA MOMENTS
Listen to a wonderful story about Alois and his father in post WWII Germany where he learned at the tender age of five that anything is possible. It all started with two steel beams and a vision.
FIRST SPECIAL CAR
A Citroen 2CV Deux Chevaux  and a Porsche 911
BEST AUTOMOTIVE ADVICE
Don't compete with the big OEMs.
BOOK SUGGESTION
My Life Full of Cars – Paul Frere
PARTING ADVICE
Come and visit Alois Ruf in Germany!
HOW TO FIND ALOIS
Ruf Automobile GmbH –  www.ruf-automobile.de
Email – info@ruf-autmobile.de
Facebook – www.facebook.com/RUF.Automobile.GmbH
HELPING CARS YEAH GROW
You can help promote Cars Yeah interviews. Please go to iTunes and post a comment. Every little bit helps and we will greatly appreciate your support.