Podcast: Play in new window | Download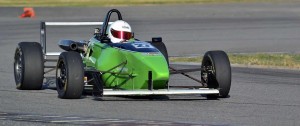 Andrew Evans is an up and coming 16 year old race car driver.  He is in the driver development program of PR1 Motorsports, which has won over 45 championships, including the 2013 ALMS Driver's Championship.  Andrew started racing karts when he was 8 years old and by 12 he had moved up to shifter karts. By the time he was 14 Andrew reached the top levels of the national karting scene.  In 2013, at the age of 15, he had an impressive debut season of Formula F1600 car racing with the Lynx Racing team.  He then moved up to the F2000 category with PR1 for 2014 and is currently leading the Pacific Formula F2000 Championship Series.   He recently broke the SCCA track record in the Formula Continental category at the Laguna Seca Raceway, where he will soon be competing for the SCCA National Championship.  In addition to his on-track efforts, Andrew focuses on marketing and public relations, which has led him into a variety of community activities, as well as web page construction and other social media platforms. Andrew holds the title of my youngest guest here on Cars Yeah.
SPONSORS
Want to sponsor the Cars Yeah podcast? Contact us today.
"Racing is a great mania to which one must sacrifice everything without hesitation." – Enzo Ferrari
Andrew talks about his first season in a race car and all the difficult issues he faced.
AH-HA MOMENTS
After being invited to a team meeting to discuss the 24 hours of Daytona, Andrew learned what was involved in racing to make it professionally.
FIRST SPECIAL AUTOMOBILE
A green formula 2000 race car Andrew named Wilson. Listen and find out why.
BEST AUTOMOTIVE ADVICE 
A team captain asked Andrew, "Why were you in that position in the race?" It lead to Andrew's drive to look at the data after every race.
FAVORITE RESOURCES 
The app Racemonitor – www.race-monitor.com
FAVORITE BOOKS
Speed Secrets – Ross Bentley
PARTING ADVICE 
Always look ahead.
HOW TO FIND ANDREW
You can find Andrew at www.andrewevansracing.us
Facebook – www.facebook.com/AndrewEvansRacingUS
YouTube – www.youtube.com/user/AndrewEvansRacingUS
Email – AndrewEvansRacingUS@Gmail.com
HELPING CARS YEAH GROW
You can help promote Cars Yeah interviews. Please go to iTunes and post a comment. Every little bit helps and we will greatly appreciate your support.