Podcast: Play in new window | Download


Listen To Art by Clicking on the Red Arrow Above or Visit iTunes or Stitcher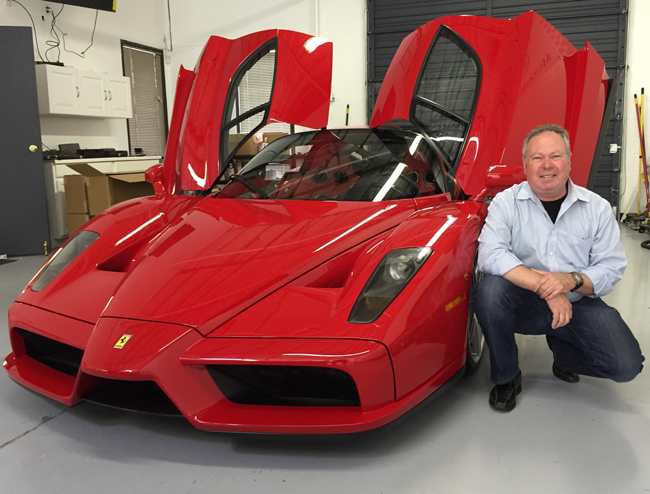 Art Smith has been in the automotive business since 1986. He spent time with Volkswagen and Lexus and the last 13 years at Ron Tonkin Gran Turismo, North America's oldest Ferrari dealer located in Portland Oregon. Now retired, he refuses to leave the world of automobiles and now cares for the late Ron Tonkin's collection of over 50 cars, 25 of which are Ferraris including his first, a 1967 330GTS, 4 super cars, a 288 GTO, an F40, F50, an Enzo, Daytona Coupe, and a Spider not to forget a 1953 212 Vignale. The Ron Tonkin legacy includes their sponsorship of the Forest Grove Concours d'Elegance that takes place every July on the Pacific University campus east of Portland, Oregon.
SHOW SPONSORS  
Forest Grove Concours d'Elegance
NOCO Genius Boost Jump Starter
SUCCESS QUOTE
"Do something that you love and you'll never work a day in your life." – Henry Ford
CAREER CHALLENGE
Taking a chance, picking up and moving from New Orleans to Portland to pursue his dream of working in the automotive field.
AH-HA MOMENTS
Discovering that even in retirement it is possible to continue his dream of being involved with cars and he is now the curator for a wonderful collection of cars.
FIRST SPECIAL CAR 
A 1970 Mustang Mach I
BEST AUTOMOTIVE ADVICE
Go sell Volkswagens. Listen to Art and learn why this was so important in his life.
GREAT AUTOMOTIVE RESOURCE 
Ron Tonkin Gran Turismo – www.rtgt.com
FAVORITE BOOK
The Art of Racing in the Rain – Garth Stein
PARTING ADVICE 
If you have an interest in cars find a way to have a career in the field.
HOW TO FIND ART
Ron Tonkin Gran Turismo – www.rtgt.com
Forest Grove Concours d'Elegance – Forest Grove Concours d'Elegance
HELPING CARS YEAH GROW
You can help promote Cars Yeah interviews. Please go to iTunes and post a comment.
Every little bit helps and we will greatly appreciate your support.