Podcast: Play in new window | Download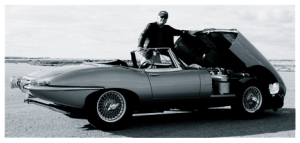 Beverly and Dennis Little run the Santa Fe Concorso that takes place every year in late September at The Club at Las Campanas in Santa Fe, New Mexico.  It is an annual gathering of the finest automobiles in the world.  When you combine Dennis, a car designer for over 30 years, with Beverly, a professional educator, you get a powerful team.  They are in fact a couple who have been married for 46 years.  And if you think putting on a car gather of this magnitude is an easy task, you are mistaken.  Beverly was a public school educator for over 30 years.  Now retired, she is the Santa Fe Consorso secretary.  Dennis worked at General Motors for 30 years as a designer and he was the Chief Designer of Cadillac Design Studio.  He lead many innovative projects over the yeas with Buick, Pontiac, Oldsmobile, Chevrolet, Cadillac and Pininfarina Design.  Dennis is the president of the Santa Fe Concorso.  Over the past four years these two have developed the Santa Fe Concorso in to a top tier event and a concours not to be missed.
SPONSORS
Want to sponsor the Cars Yeah podcast? Contact us today.
Beverly – Where there's a will there's a way.
Dennis – I can't see with my ears.
Beverly – As a career in education listen to how she dealt with a large group of middle school boys which lead to her dream career in education.
Dennis – He was ready to move faster than the company was moving forward. Listen to learn how the figured out a way to work within the confines of a huge company like General Motors.
AH-HA MOMENTS
Beverly – With encouragement from Phil Hill and Denise McCluggage the Santa Fe Concorso was formed. A key ah-ha was the people, specifically the friendship they developed with sponsors and Denise McCluggage.
Dennis – We simply don't think of failure. We don't start something thinking it will fail.
FIRST SPECIAL AUTOMOBILES
Beverly – Opel Cadet
Dennis – His Soap Box Derby Race Car
BEST AUTOMOTIVE ADVICE 
Beverly – Buy the car you can enjoy.
Dennis – Embrace a challenge.
FAVORITE RESOURCES 
Motorsports Marketing Resources – www.motorsportsmarketingresources.com
Dean's Garage – www.deansgarage.com
Denise McCluggage – www.denisemccluggage.com
FAVORITE BOOKS
Customers for Life – Carl Sewell
The Book Thief – Markus Zusak
PARTING ADVICE 
Beverly – Stay true to yourself and follow your dreams.
Dennis – It's not just the cars. It's the people.
HOW TO FIND BEVERLY & DENNIS
You will learn more about the Sante Fe Concorso at www.santafeconcorso.com
Facebook – www.facebook.com/pages/Santa-Fe-Concorso
HELPING CARS YEAH GROW
You can help promote Cars Yeah interviews. Please go to iTunes and post a comment. Every little bit helps and we will greatly appreciate your support.