Podcast: Play in new window | Download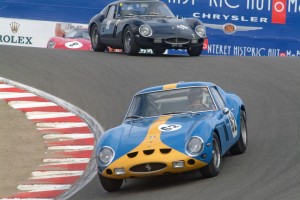 Bill Noon runs the classic road and racecar side of Symbolic Motors in La Jolla California. If you've been to any of the prominent concours or auction events in the country, you've probably seen Bill running around with his brief case, phone and pen in hand. Bill is a veteran of the United States Navy and the Merchant Marines. He's owned over 100 different vehicles over the past 35 years and he's always looking for the next one. He writes for several different magazines and has appeared in a variety of different television and cable automotive documentaries. Most of his time is dedicated to buying, selling, trading, and racing classic automobiles and participating in tours. His focus is on classic Sports Racing Ferraris, Maseratis, Porsches, Mercedes, and Alfa Romeos.
  SPONSORS
Want to sponsor the Cars Yeah podcast? Contact us today.
"Every day you wake up it's a vacation. Every meal is a banquet. And every paycheck is a fortune." 
Bill shares a very personal time in his life that was very challenging and how the people around him helped him through those difficult times.
AH-HA MOMENTS
While selling cars at the Cavallino event, at Moroso race track in Florida, Bill's business partner convinced him to take one of the Ferrari's, they had for sale, out on the track and race the car. What an ah-ha moment!
FIRST SPECIAL AUTOMOBILE
Abarth 207A Boano
BEST AUTOMOTIVE ADVICE 
The only tool you need to take with you in a vehicle is your cell phone.
FAVORITE BOOKS
The Complete Corvette Restoration Guide – Nolan Adams
Immortal 2.9 Alfa Romeo  – Simon Moore – Revised Edition
FAVORITE RESOURCES 
Bring a Trailer – www.bringatrailer.com
RM Auctions – www.rmauctions.com
Gooding & Company – www.goodingco.com
Bonhams – www.bonhams.com
PARTING ADVICE
Be polite to everybody you meet and greet.
HOW TO FIND BILL
Email – Bill@billnoon.com
Symbolic International – www.symbolicinternational.com
Sports & Racing Cars – www.symbolicphotos.weebly.com
HELPING CARS YEAH GROW
You can help promote Cars Yeah interviews. Please go to iTunes and post a comment. Every little bit helps and we will greatly appreciate your support.