Podcast: Play in new window | Download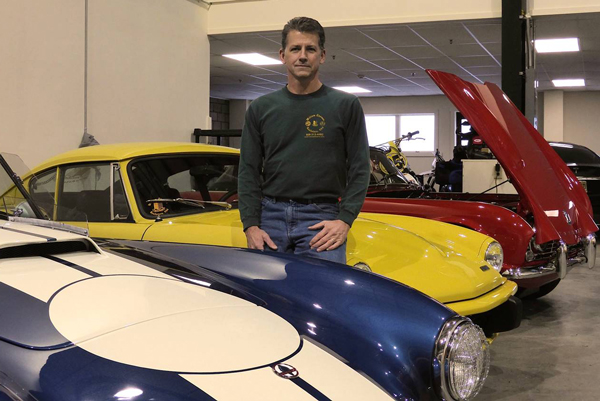 Bill Thomas has over 26 years in the automotive business and he is an ASE, Automotive Service Excellence, Certified Master Technician. His love of classic British sports cars moved him to open William Thomas Roadsters in Hunterdon County, New Jersey where he and his team restore and care for British cars. Bill also operates Performance Garage Club in Frenchtown, New Jersey where they created a wonderful automotive storage facility. It is a place where members can keep, and work on their special vehicles or just hang out with friends. But wait, there's more. Bill's Draken Cars East is another venture he's embarked upon where he's building a custom formula car concept roadster that is really cool. And then there is LTW Motorsports where Bill provides track car services from tech inspections, proper set ups, storage, and more.
SHOW SPONSOR  
NOCO Genius Boost Jump Starter
Bill lost his father five days before Christmas when he was a young man. In many ways this tragic event helped for form the person he was to become.
AH-HA MOMENTS
After restoring a Triumph TR4 in his garage at home Bill took it to a local British Car Show. So many people asked him where he got it restored and then upon finding out he did the work himself asked if he would work on their cars, Bill had his ah-ha. Perhaps he could have more fun and he left his job with Ferrari and started developing his own restoration shop.
FIRST SPECIAL CAR
A 1969 Pontiac GTO
BEST AUTOMOTIVE ADVICE
Acquire good skills, hone them and then use them.
FAVORITE AUTOMOTIVE RESOURCES
Moss Motors – www.mossmotors.com
Sector 111 – www.sector111.com
FAVORITE BOOK
Killing Patton – Bill O'Reilly
PARTING ADVICE 
Life is short. It's best to always strive to do what you really enjoy in life.
HOW TO FIND BILL
William Thomas Roadsters – www.wtroadsters.com
Drakan Cars East – www.drakancarseast.com
Performance Garage Club – www.performancegarageclub.com
LTW Performance – www.ltwmotorsports.com
Sector 111 – www.sector111.com
HELPING CARS YEAH GROW
You can help promote Cars Yeah interviews. Please go to iTunes and post a comment. Every little bit helps and we will greatly appreciate your support.