Podcast: Play in new window | Download


Listen To Billy by Clicking on the Red Arrow Above or Visit iTunes or Stitcher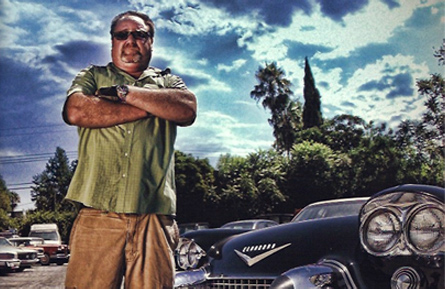 Billy Hammon aka Jet Boat is the CEO of Action Vehicle Engineering. Combining over 30 years of car experience and 20 years in the film industry his vehicles are legendary. He's worked as a mechanic in multiple racing events including the Indy 500, Daytona 500 and 24 Hours of Daytona. He's been a part of numerous automotive commercials and films. We all played with Hot Wheels as a kid. Billy plays with full size, real life Hot Wheels that he builds. Billy partnered with Mattel to create full size Hot Wheels cars and coupled with Mattel, Billy has been a part of 3 world records including the world's longest jump of 332 feet, the longest corkscrew at 92 feet and a double dare loop built for the 2012 X-Games.
SHOW SPONSORS  
NOCO Genius Boost Jump Starter
CarpeGear.com The Little Red Racing Car
"When you're doing a job, you've already got that job. Now you're working for the next job." 
For many of the builds Billy does, he puts the driver's life on the line so he has to spend an enormous amount of time considering how not to fail. The fear of failure is huge.
AH-HA MOMENT
Getting involved with Mattel and building full size replicars of Hot Wheels designs.
FIRST SPECIAL CAR
A VW Diesel Rabbit Truck
BEST AUTOMOTIVE ADVICE
Be original and do it the way you feel it should be done.
AUTOMOTIVE RESOURCE
Troy Lee Designs – www.troyleedesigns.com
FAVORITE BOOK  
Engineer to Win – Carroll Smith
PARTING ADVICE 
Follow your dreams, be passionate about what you do, and don't give up.
HOW TO FIND BILLY
Action Vehicle Engineering – www.actionvehicleeng.com
HELPING CARS YEAH GROW
You can help promote Cars Yeah interviews. Please go to iTunes and post a comment. Every little bit helps and we will greatly appreciate your support.