Podcast: Play in new window | Download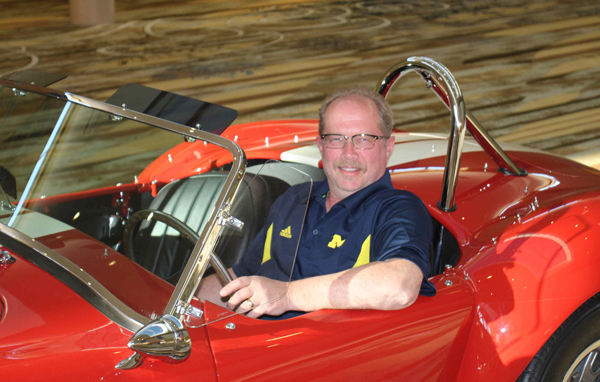 Bob DeKorne has been involved in marketing classic car insurance since 1998.  He has been fortunate to attend nearly every major concours event in the country, as well as every major classic car auction for the past 17 years.  His career brings him into some of the finest private collections in the world, as well as many of the major automotive museums we all love to visit.  He's part of the Heacock Classis Insurance team and has been an automotive enthusiast since he was about three years old. His earliest childhood memory was sitting on dad's Zundapp 150 motorcycle every time he got his hair cut.
SHOW SPONSOR  
NOCO Genius Boost Jump Starter
"If there's light in the soul, there will be beauty in the person.  If there's beauty in the person there will be harmony in the house. If there's harmony in the house, there will be order in the nation. And if there's order in the nation, there will be peace in the world."  – Bob's wife
When the company Bob was enjoying working for changed their business model Bob had to re-invent himself and find a new career path. Listen to how he did this with great success.
AH-HA MOMENTS
Working in the collector car insurance business Rob discovered that being at auctions when purchases were made was the place to be to help people cover their new acquisitions. This required an entirely new approach to writing insurance policies and it worked.
FIRST SPECIAL CAR
A 1954 Chevrolet Bel Air
BEST AUTOMOTIVE ADVICE
You can have just as much fun with a $5,000 car as a can with a $500,000 car.
FAVORITE AUTOMOTIVE RESOURCES
Bring a Trailer – www.bringatrailer.com  The co-founder of Bring a Trailer, Randy Nonnenberg has been a guest on Cars Yeah. You can find his interview here.
Bold Ride – www.boldride.com
Auto Trend Magazine – www.motortrend.com
FAVORITE BOOKS
Michael Furman – www.michaelfurman.com  Michael Furman has been a guest on Cars Yeah. You can find his interview here.
Tom Cotter – www.amazon.com/Tom-Cotter  Tom Cotter has been a guest on Cars Yeah. You can find his interview here.
PARTING ADVICE 
The trick to having fun in the collector car hobby is buy what you love and what you can afford and enjoy it for a long, long time.
HOW TO FIND BOB
Heacock Classic – www.heacockclassic.com
HELPING CARS YEAH GROW
You can help promote Cars Yeah interviews. Please go to iTunes and post a comment. Every little bit helps and we will greatly appreciate your support.