Podcast: Play in new window | Download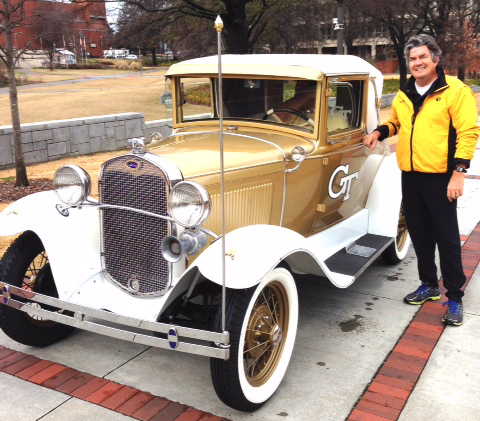 Anyone who's watched motorsports on television over the last 30 years will recognize the face and voice of today's guest here on Cars Yeah. Bob Varsha's career in automotive broadcasting goes back to 1980 when he was invited to cover the Peachtree 10K Road Race. He hosted MotorWeek Illustrated on CNN and covered Formula One racing on ESPN. He has been a television host on a multitude of sporting events from gymnastics to track & field to skiing. While on Speedvision he covered F1, sports cars, motorcycles and the Tour de France racing. He's been the voice at Barrett-Jackson auctions, IMSA sports cars, the MotoGP World Championship and the 24 Hours of Le Mans. He sits on the Board of Advisors for the Motorsports Vehicle Technology Program at Lanier Technical College in Gainesville, Georgia, and he is an honorary member of the Road Racing Drivers Club.
SHOW SPONSOR  
NOCO Genius Boost Jump Starter
"You gain listeners by the ones and twos and you lose them by the dozens." – Ludlow Porch
CAREER CHALLENGE
After working for a while at CNN Bob was invited to have lunch with the head executive. At that lunch Bob was let go and found himself without a job. Listen and learn how that experience actually left him feeling good about being let go from his first broadcast job.
AH-HA MOMENTS
While covering the 24 Hours of Daytona race for the first time Bob was having trouble with the enormous amount of coverage need for all the participants. Listen to what his boss shared with him that helped Bob not only at that race but every one he covered after that.
FIRST SPECIAL CAR
A 944 Porsche Turbo
BEST AUTOMOTIVE ADVICE
Do your homework when selecting a car with your heart but use your head.
FAVORITE AUTOMOTIVE RESOURCES
Sports Car Market Magazine – www.sportscarmarket.com
FAVORITE BOOKS
Gurney Eagle Westlake F1 – Bob Varsha (Author), Dan Gurney (Foreword), Peter Harholdt (Photographer)
Angle of Attack: Harrison Storms and the Race to the Moon – Mike Gray
PARTING ADVICE 
Follow your heart to make sure you do what you really want to do in your life and do it as soon as possible.
HOW TO FIND BOB
Fox Sports – www.foxsports.com/BobVarsha
Facebook- www.facebook.com/pages/Bob-Varsha
Twitter – www.twitter.com/bobvarsha
HELPING CARS YEAH GROW
You can help promote Cars Yeah interviews. Please go to iTunes and post a comment. Every little bit helps and we will greatly appreciate your support.