Podcast: Play in new window | Download

Listen to Burt by Clicking on the Red Arrow Above or Visit iTunes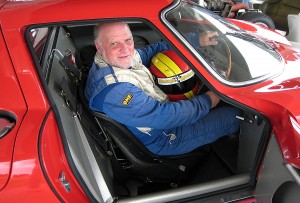 Burt "BS" Levy is an award-winning motorsports journalist, an infamous author, a lifelong sports car nut, and notorious racecars ride mooch.  He is the author of the celebrated cult classic 1950s sports car novels The Last Open Road, its sequels Montezuma's Ferrari, The Fabulous Trashwagon,  Toly's Ghost, The 200 MPH Steamroller,  and his utterly hilarious short story collection, A Potside Companion.  He's piloted all kinds of vintage racecars by mooching rides at tracks across the country from Laguna Seca to Watkins Glen.  A true automotive entrepreneur, Burt is sure to fill our ears with his humor and iconic "BS" so hide your cars keys and listen up to this interview, part one of two spectacular journeys with a very unique character.
SPONSORS
Want to sponsor the Cars Yeah podcast? Contact us today.
SUCCESS QUOTES 

" Whatever you want to do in this life, you'd better DO it. Because you're a long time dead." – Burt's Dad
"There's only one thing you need to know in this life, and that's what you need to do next." – Burt's Dad
BUSINESS CHALLENGES 

After three major failures in different automotive careers, listen to find out what Burt did and how all his past challenges helped him discover what his real success would be.
AH-HA MOMENT 

When the owner of a Ferrari asked Burt to drive his race car and write about the experience Burt's aha moment helped him realize he had discovered his true talent and passion which led to a success as an automotive writer and vintage race car driver.
FIRST SPECIAL AUTOMOBILE
Triumph TR3
BEST AUTOMOTIVE ADVICE
Make sure your sparks are in order before you start screwing around with carburetion.   – Butch Bohunk
FAVORITE RESOURCES

Motorsport Marketing Resources – www.motorsportsmarketingresources.com
Jay Leno's Garage – www.nbc.com/jay-lenos-garage
Vintage Racing League – www.thevrl.com
FAVORITE BOOK

Inside Shelby American – John Morton
PARTING ADVICE
Whatever you want to do in this life, you'd better DO it. Because you're a long time dead.
HELPING CARS YEAH GET A BUMP START
You can help promote Cars Yeah interviews. Please go to iTunes and post a comment. Every little bit helps and we will greatly appreciate your support.