Podcast: Play in new window | Download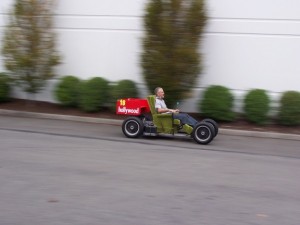 Byron Sandborn has been a BMW Club member for over 41 years after attending their driving school at Seattle International Speedway. After that experience Byron was hooked on driving at speed. He autocrossed and then raced in ICSCC and SCCA events winning championships in 1987 and 1988. After being invited to drive a friend's Shelby King Cobra in a vintage race, a friendship at the track with another vintage racer was formed when he helped with their Elva Mk 7. That friendship lead to a career move to Vintage Racing Motors. Byron's been a key part of VRM for over 25 years as a mechanic, restorer, manager, and a driver. He's raced over 175 different cars at over 35 different racetracks around the world. And yes, that's a Lazy Boy recliner that Byron built in to a drivable racer.
SHOW SPONSOR
NOCO Genius Boost Jump Start  – Here.
"Be ready to take on any challenge that happens to present itself." – Byron's Father
When Byron first began working on vintage race cars he didn't know a lot about the cars he was tasked to work on. Listen to learn how he overcame this challenge by using his father's words of wisdom.
AH-HA MOMENTS
After working for one man taking care of his collection he started to accept friends cars to work on and the ah-ha was, let's make a business out of this. And VRM was born.
FIRST SPECIAL CAR
A 1970 BMW 1600
BEST AUTOMOTIVE ADVICE
Pay attention to everything. – Byron's Father
BOOK SUGGESTION
Time and Two Seats – Janos L. Wimpffen
PARTING ADVICE
It's really easy to drive a fast car slow, it's way more difficult to drive a slow car fast.
HOW TO FIND BYRON
Vintage Racing Motors –  www.vrmotors.com
HELPING CARS YEAH GROW
You can help promote Cars Yeah interviews. Please go to iTunes and post a comment. Every little bit helps and we will greatly appreciate your support.